JB 1 day trip with Precious~
We took leaves and offs for a day trip to Johor Bahru on a weekday, since our Elise Jia Jia is back.
Was supposed to be the 5 of us travelling. However, Sor san just did her removal of wisdom tooth, she felt drowsy, so she wasn't able to make it.
But, nevertheless, we still have lotsa fun!
Firstly, we went to City square Neway to check if there's slot for singing and how was the price like.
And we got to know there's K lunch promotion!
For more recent updates, please check their website:
http://www.newaykb.com.my/main.php?opt=home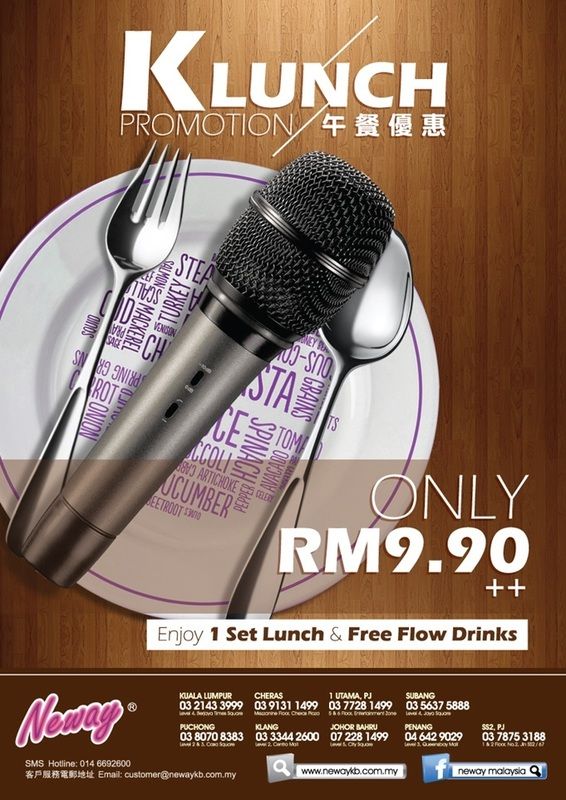 Wa!!! RM9.90 only leh!! With lunch, free flow of drinks and free flow at the salad bar. The ++ is only when you choose higher price dishes. If not, it's RM9.90 NETT leh, about SGD 3.70!! How to find such good deal in SG!
And And And!!! The best part and surprising part! Not sure if the small rooms are used up and we got more people or they find us CUTE? Lol.. I think they find us CUTE la... lol... deceiving myself again.
But we were brought to a K SUITE! Super big room la! With private toilet! 3 screens. Super big sofa!
You tell me lo, where got such good deal in SG. Tell me Tell me!
Hmmm, we should we sit neh...?? Wahahhahah!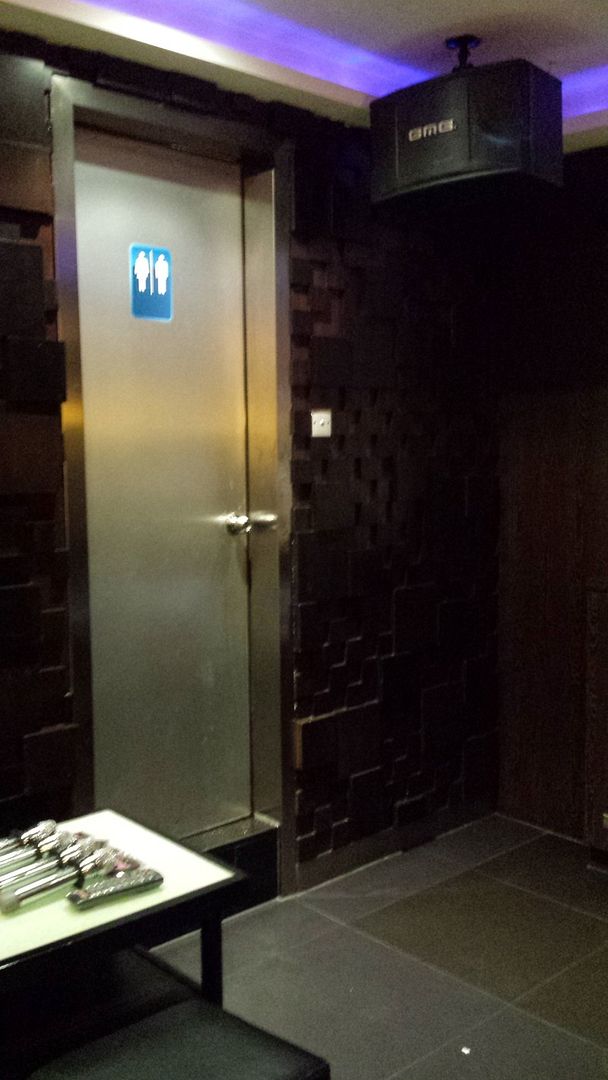 Our private toilet, and it's really CLEAN leh!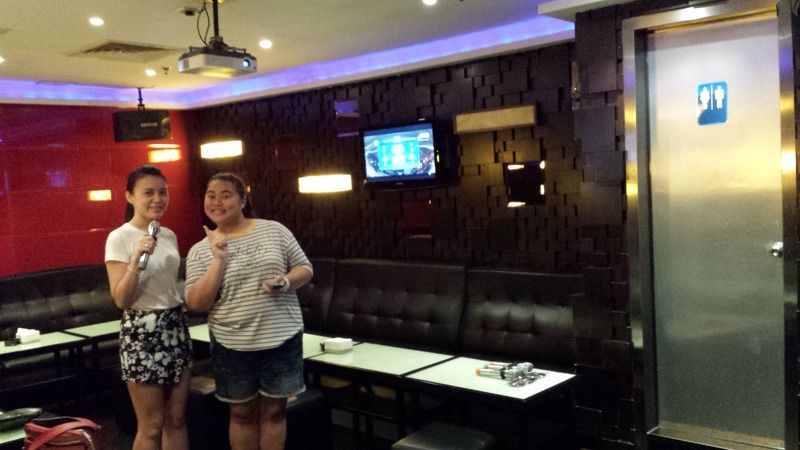 Rayne and Wendy! 1 microphone each, don't need to fight fight!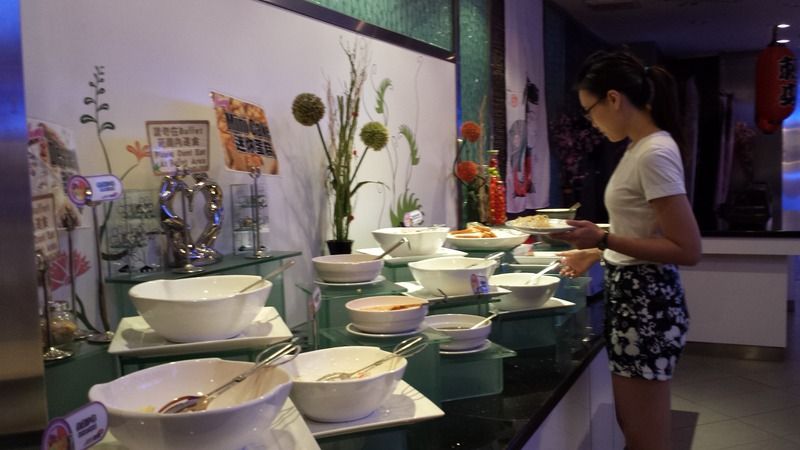 Free flow at the salad bar. Although not much variety, not very yummy... But hey... its only RM9.90.
So, mai hiam!
Free flow of drinks. Drink till siao siao... not to worry... got our own private toilet! wahahhah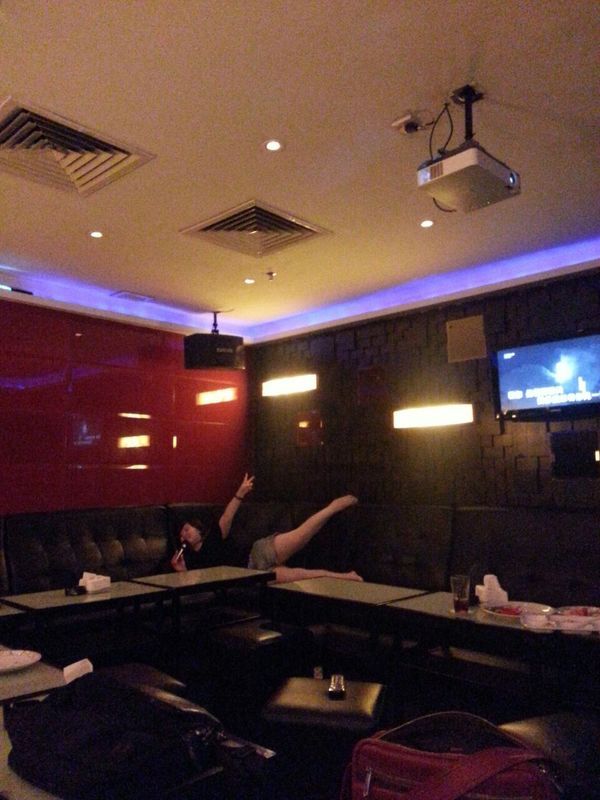 Oops, that's me... Lying down to sing...
That's our JiaJia!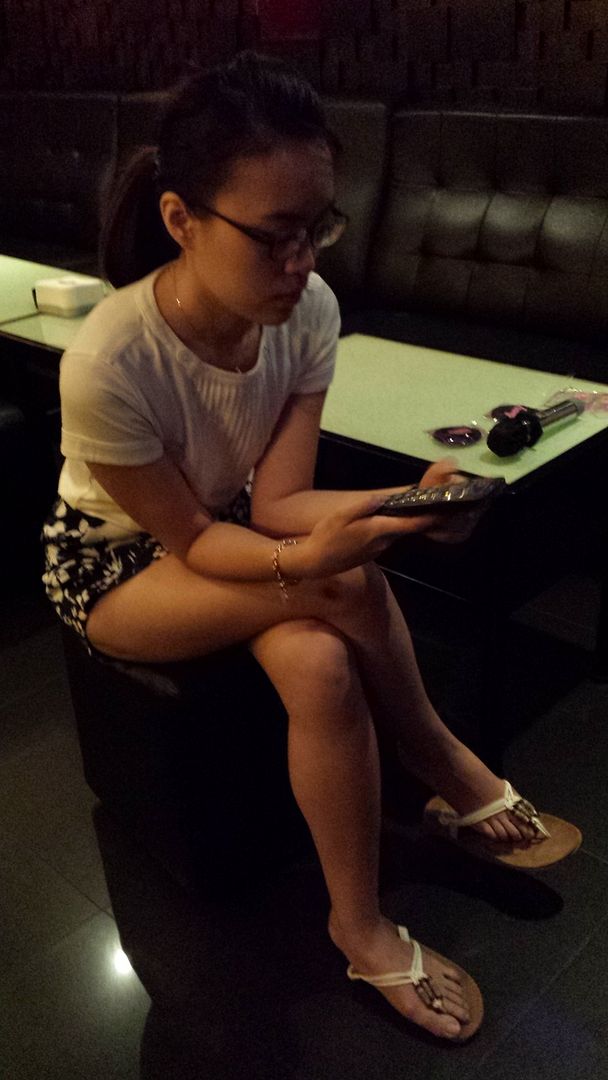 Who's that NERD?! Oops.. She's wearing specs because there's instant making of specs within an hour at an affordable price at KSL. Tell you more later.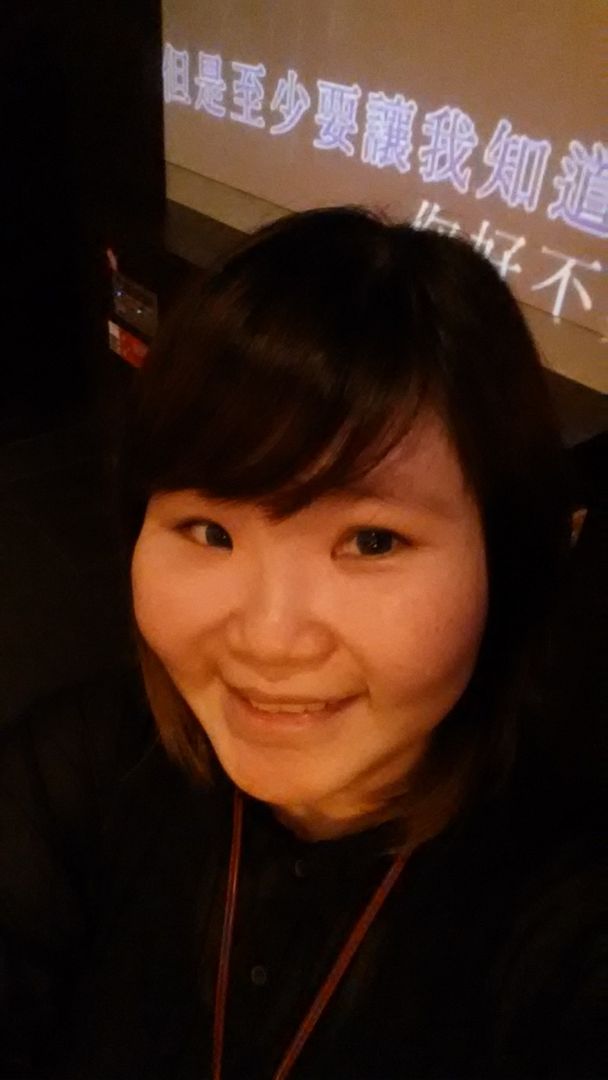 Fatty cheeks. Yep, that's me!
That's our penang prawn noodle
Taste so- so lah.. Eat full can liao. Cos, again.... RM9.90 only leh!
When things are cheap, you gonna be less HIAM.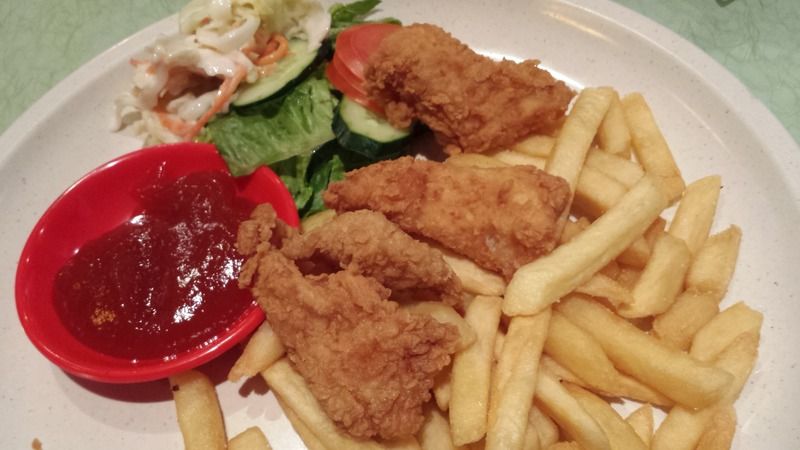 Fish and chip.
No worries if I block the screen, cos there's 3 screens!
RM 9.90 NETT!
Some Wefies before we leave!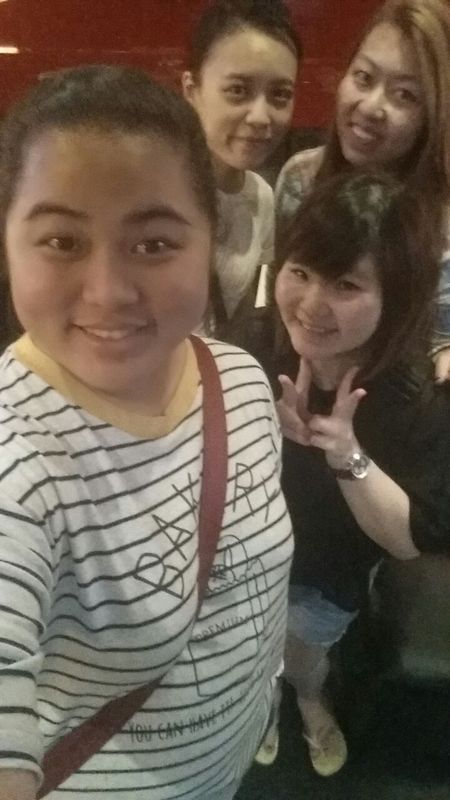 Next, we head to KSL. Cos Rayne wanna make her specs. She thought she could get it by 1hr.
However, Above 600 degree, you will have to come again in a week time.
So, well... she still did her spectacles.
Sorry, I didn't take any photo of the shop and her specs. Ooops.
But the Shop name is M-Trend situated at KSL [G]round 1 level.
For more info, check out their FB:
https://www.facebook.com/pages/M-Trend-KSL/1568720606681066?sk=timeline
Rayne's eyesight is about 800-900 degree and also with quite high astigmatism too. Aiyoyo.
She chose the super super thin lens, and in all it was just RM565, about SGD200. Ok ma hor?!
Anyway for myself, I always just go buy those cheap cheap cute frames. Then go neighboring specs shops to do the thin lens (eye sight about 450left, 150right), cost about $80 bah.
And my frames can change change cos its almost the same size, so I just pluck in and out lo.
Next, Wendy suggested to have Swensons cone ice cream.
RM 7.20, about SGD 2.70 for 2 cones of ice cream!!! Meaning 1 for $1.35? Cheaper than Mcdonalds Sundae.
Again, you tell me... SG Swensons where got so cheap!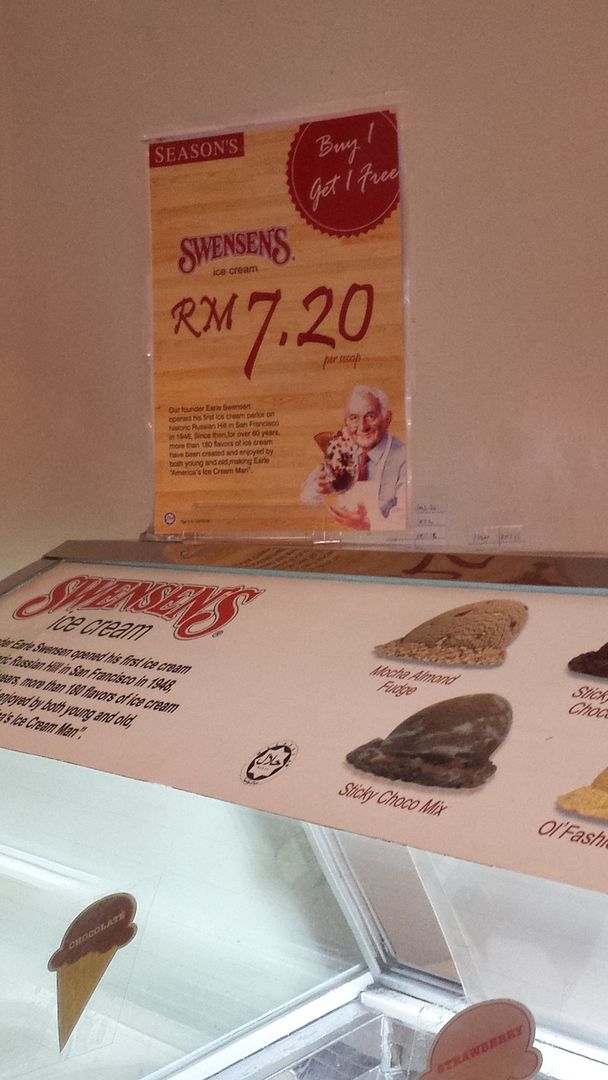 Next, we headed to Holiday Plaza. To do our routine stuffs whenever we come to JB!
Nails? Eyes? HP casing!
I already have lotsa lotsa packages for nails in SG already. So, I'm not going to do this time round.
Instead, I went to perm my eye lashes.
Again, I did not take photo of the shops. The shop name is Edith Beauty at Holiday plaza, if I'm not wrong should be level 3.
I went there to perm eye lashes years ago, and I already forgot how it feels like doing it. When I did it again, I told myself, I don't wanna do it anymore. Actually I really don't like to do anything on the face, e.g. facial .... etc. Cos I have to close my eyes, can't have much movement on the face, can't see what people is doing to my face for at least half and hour.
My eyes were red when I was done. Not sure if it's normal that after people done perming or extension they will be like that too? Or I have sensitive eyes. Argh.. oh well, not gonna do it again.
Anyway, its RM80, about SGD 30. Actually Sg also have such price, so maybe just do it in SG next time. But I'm thinking of extension of lashes instead. Intro me good ones, people out there!
Curl curl liao... Can see mah?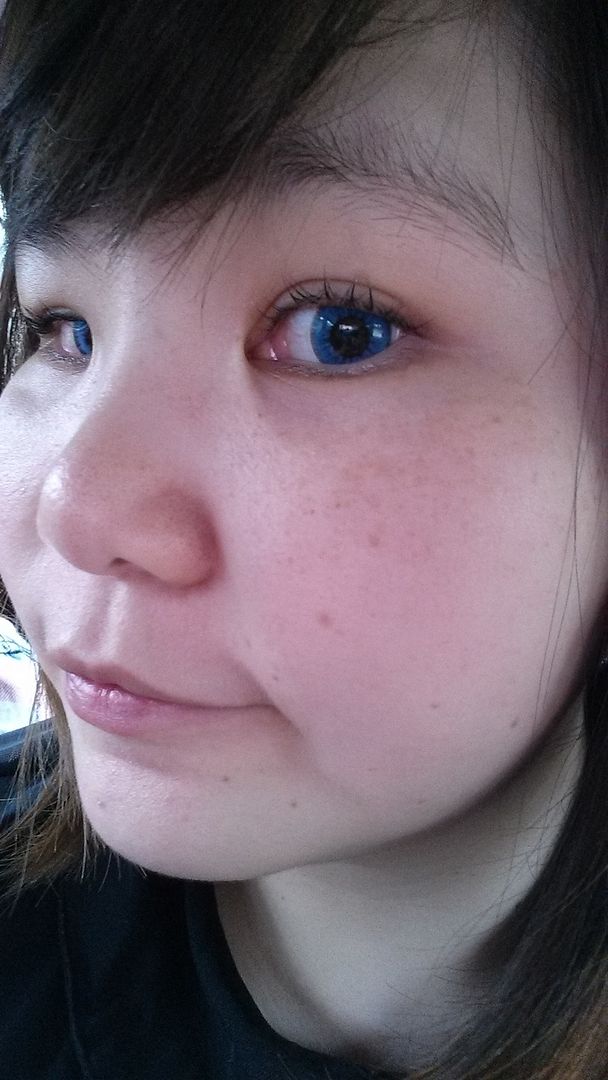 Blue eyes with curled lashes~
The rest of them did their nails at Nail Studio. Also no photo. If I were to go again, then I post pics again ok?!
Managed to find their FB:
https://www.facebook.com/pages/Nails-Studio-Holiday-Plaza/299646406746749
It's situated at Holiday Plaza, 3rd Floor, F114
Their service are good. And the price you do there can never be compared to in SG.
And they can draw pretty well too.
Then we went to hunt for some HP casing. Super sian, not much designs for S4!! Why oh WHy?
S4 also not very old model. Nvm, I'm waiting for S6! Please don't disappoint me with the lousy camera again hor, Samsung!
Next, we went to Makan! Wendy recommended to try this Bak Kut The
Shoon Fa Bak Kut The
Address: 236, Jalan Sutera 1, Taman Sentosa, 80150 Johor Bahru.
Opening hours: 8am to 5pm
We took a cab there, and Wendy was telling the cab driver that its at Taman Sentosa famous Bak kut teh, opposite of the shop, there's a super big DUCK statue.
The Must order:
- Bak Kut Teh of cos
- Claypot Sesame chicken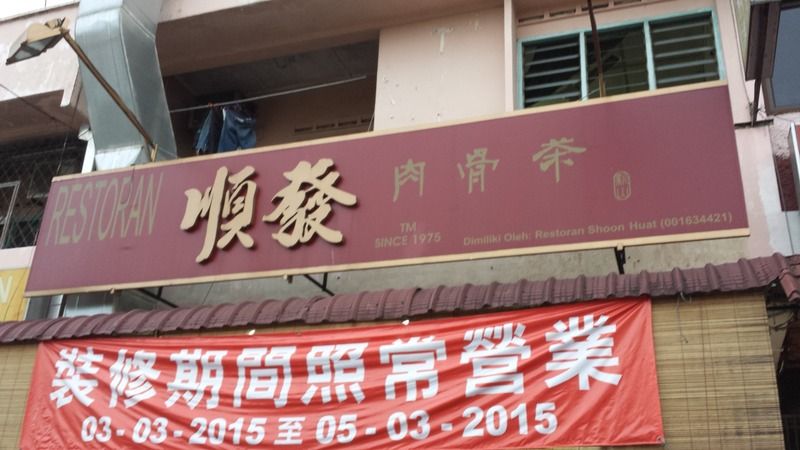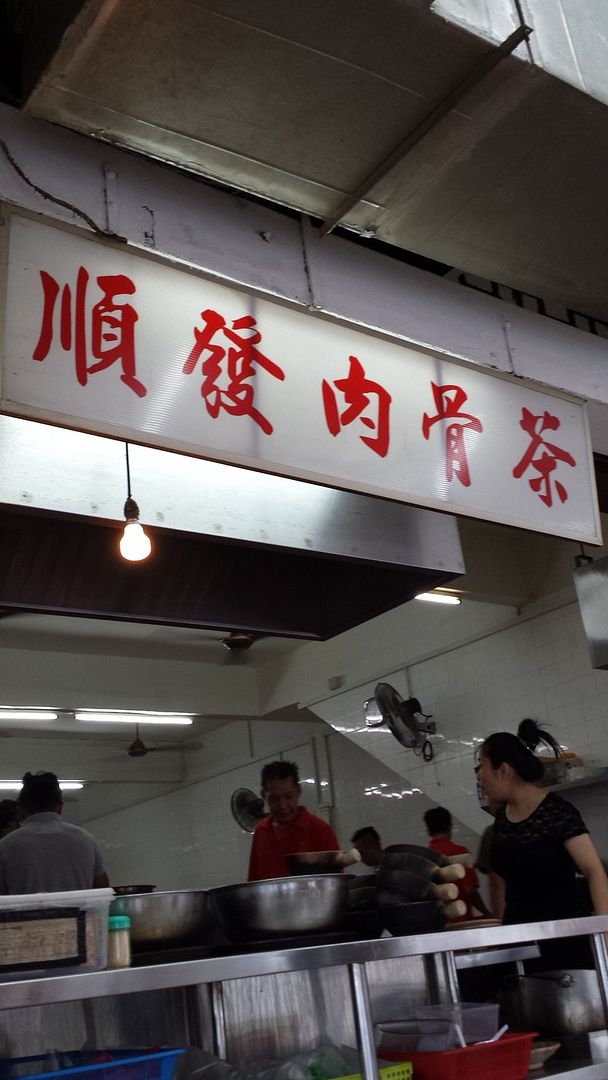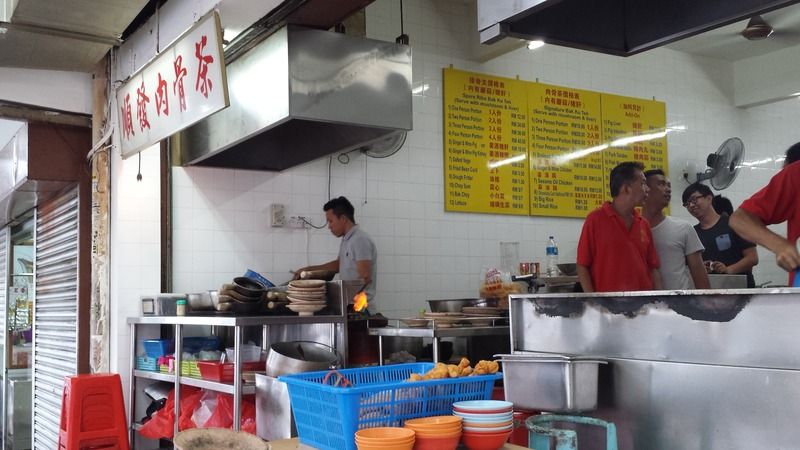 There was quite a lot of ppl eating. Business seems good!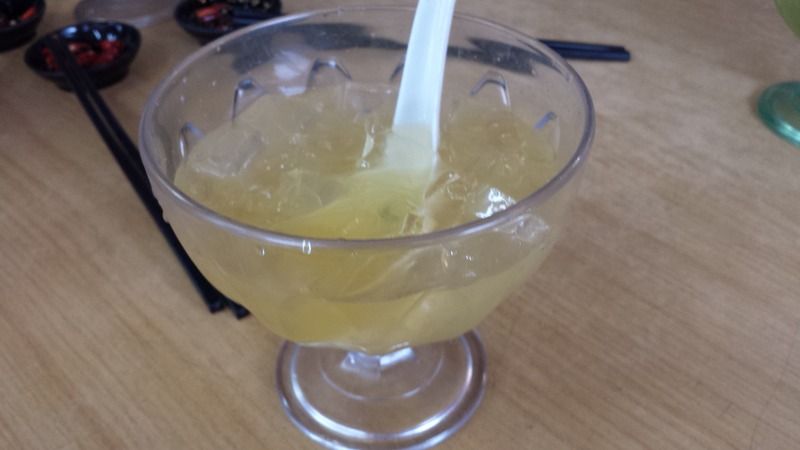 Ordered Aiyu Jelly Ice.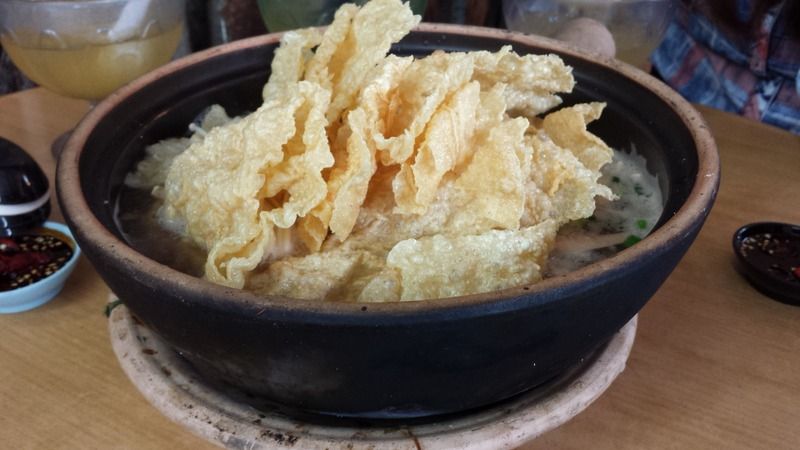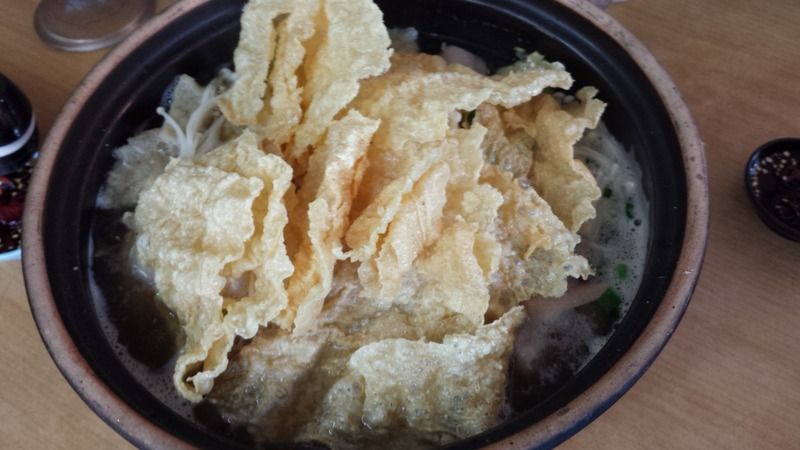 This is not the usual Bak Kut Teh we eat in Sg, not as peppery. The soup is slightly sweeter, some herbal taste and aroma. There's Tau kee, enoki mushroom, fish maw, pork ribs, pig stomach and meatballs. Also, the soup is refillable!
The pork ribs are very tender. Everything is good.
I ever tasted at a Bak Kut Teh stall at Geylang too, very yummy, herbal soup base.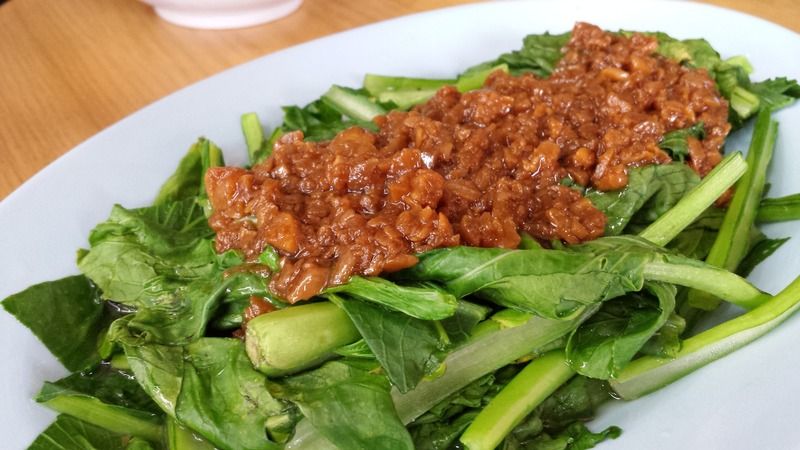 Cannot recall what was this vege dish called. But got garlic and minced meat on top..
Very yummy.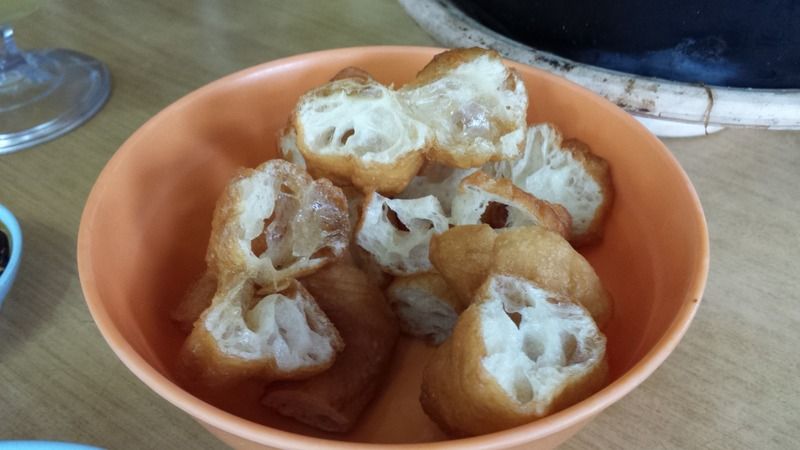 Youtiao to dip into the Bak Kut Teh, or the Sesame chicken... Nice nice!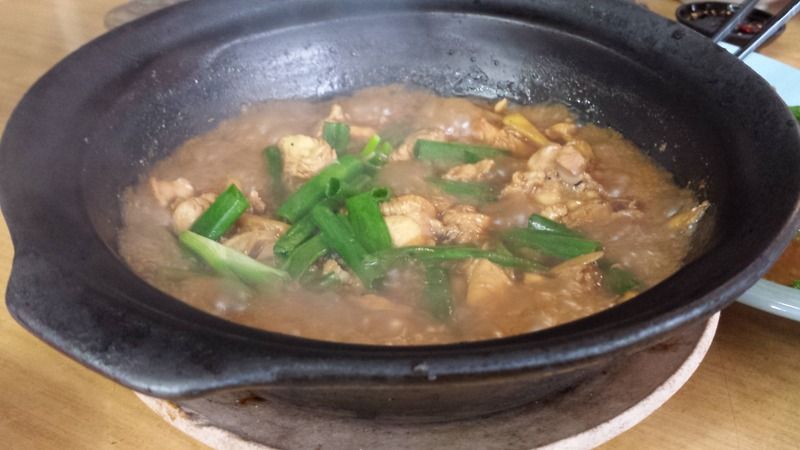 Sesame chicken
Meat is tender, smells good, taste good. Good to go with a bowl of white rice!
In all, we spent RM88 which is about SGD33. Quite affordable.
After dinner, we took a cab back to City square, it's about RM8, a little difficult to get a cab from there. So we called the Navy blue expensive cab, but just take la... cos it's late liao...
I need to go back pump milk liao... lol.
Took a quick stroll at the new mall beside City square, it's called Komatar JBCC?
There's the angry bird activity park. So, we walk walk take pic and off we go! Go back SG! lol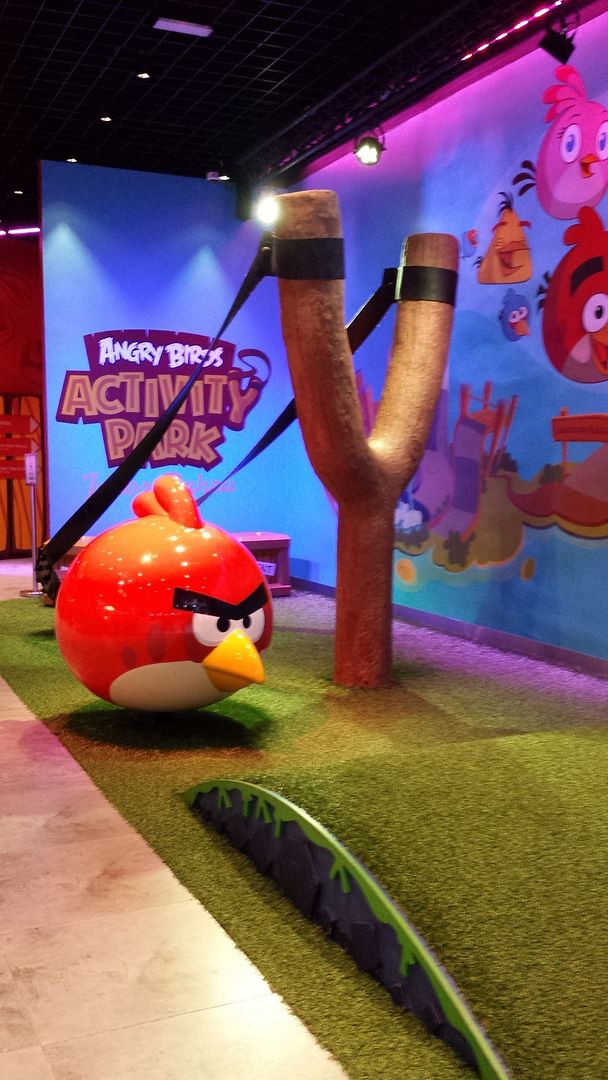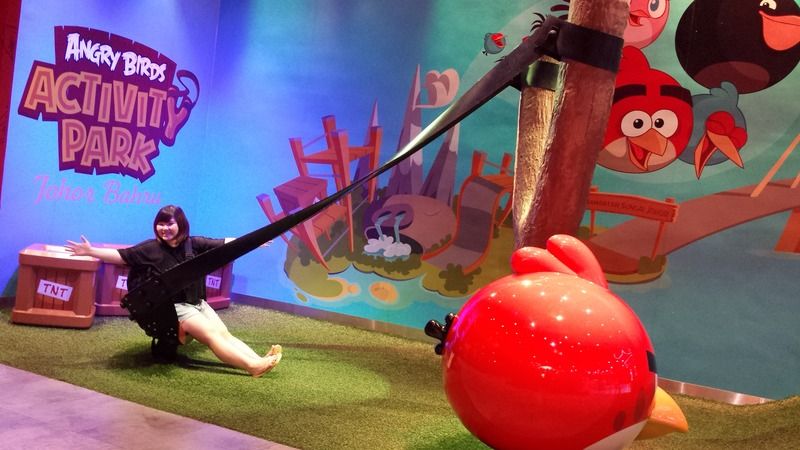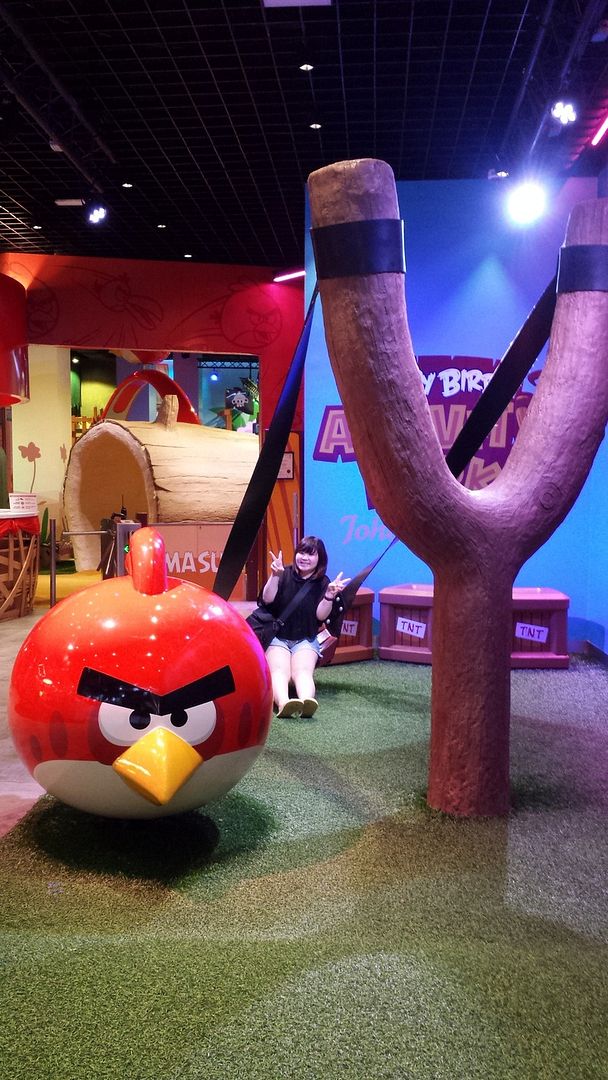 See you again! Stay tuned for more updates.