Valerie's full month celebration on 02 Nov 2014 + some mini visiting during the month
A simple full month celebration for Valerie held at our Home sweet Home. Cos, there's too much a hassle to hold it anywhere else. You have to bring bottles, diapers, clothing. More importantly, difficult for be to do my pumping of milk right?
We have invited about I guessed 50-70 ppl. Pretty amazing ya, to squeeze all of them in my small 5-rm flat. I have tried to arrange different groups at a slightly different timing. But well, not much of a difference though, haha.
We catered the buffet from Neogarden. We registered to be the member of Neogarden and have 10% off which was of cos cheaper. Everyone commented that the food was good.
Check out their website for more info:
http://www.neogarden.com.sg/promotions/index.html
We ordered the full month package cakes for guests from Sweetest Moments.
Gotten the $9.90 ones for most of the guests, and a bigger version $16.90 for families and colleagues at work.
Check out their website for lastest info, I saw there's more choices now.
http://www.sweetestmoments.com.sg/baby-full-month/full-month-package.html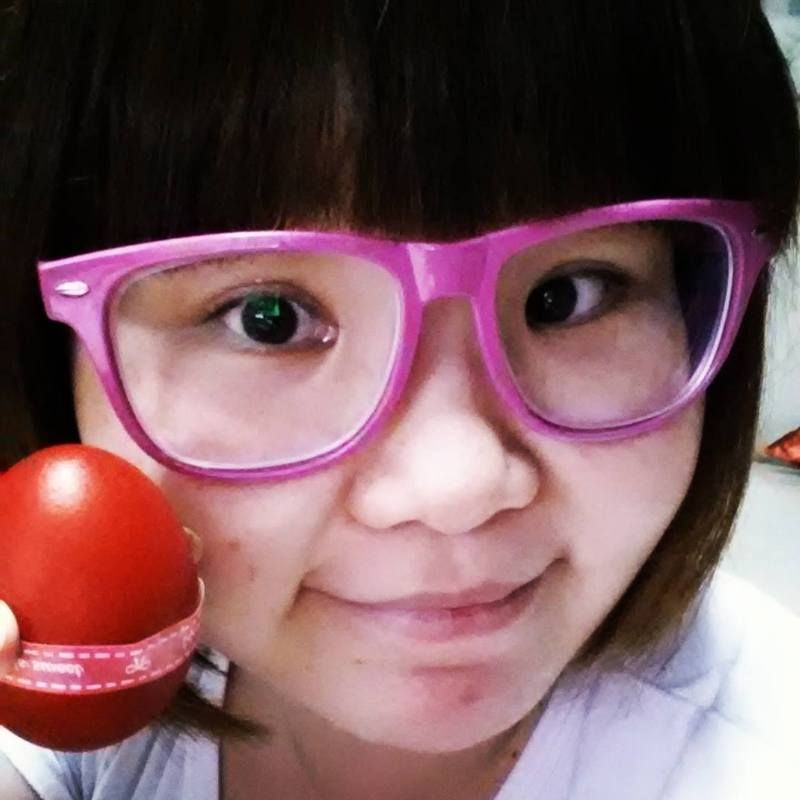 红鸡蛋 - Red egg
Red eggs, Ang Ku Kueh, glutinous rice and some sweet pastries are given as gifts to relatives and friends to celebrate the occasion,
Red
to symbolize
good luck and fortune
.
Eggs represent fertility and their shape symbolizes harmony. (So, if you guys keen on having kids, remember to eat more RED EGGS which are given out! Lol.. Wahahhahahahah!)
Ang Ku Kueh
(Red turtle cake) signifies
longevity for the baby
as turtles have long lives.
Glutinous rice
signifies a
worry-free life for baby
in terms of food and lodging.
Sweet cakes
or pastries signify
all things sweet and happiness
in the birth of the new born baby!
If you notice, I did not shave Valerie's hair. Well, girl mah, I scare it might take a very long time to regrow them again. However, I did a little trim at the sides, to symbolize shedding of birth hair.
Some said you may shave baby's hair either during the first month or the 4th month. But nah, when I was young I also didn't shave what, hair also very nice... lol.
Some of my friends couldn't make it on the actual day, so have visited earlier and later on.
These cute hand made knitted mittens, booties and headband were made by the talented RAYNE!
One of the 干妈s.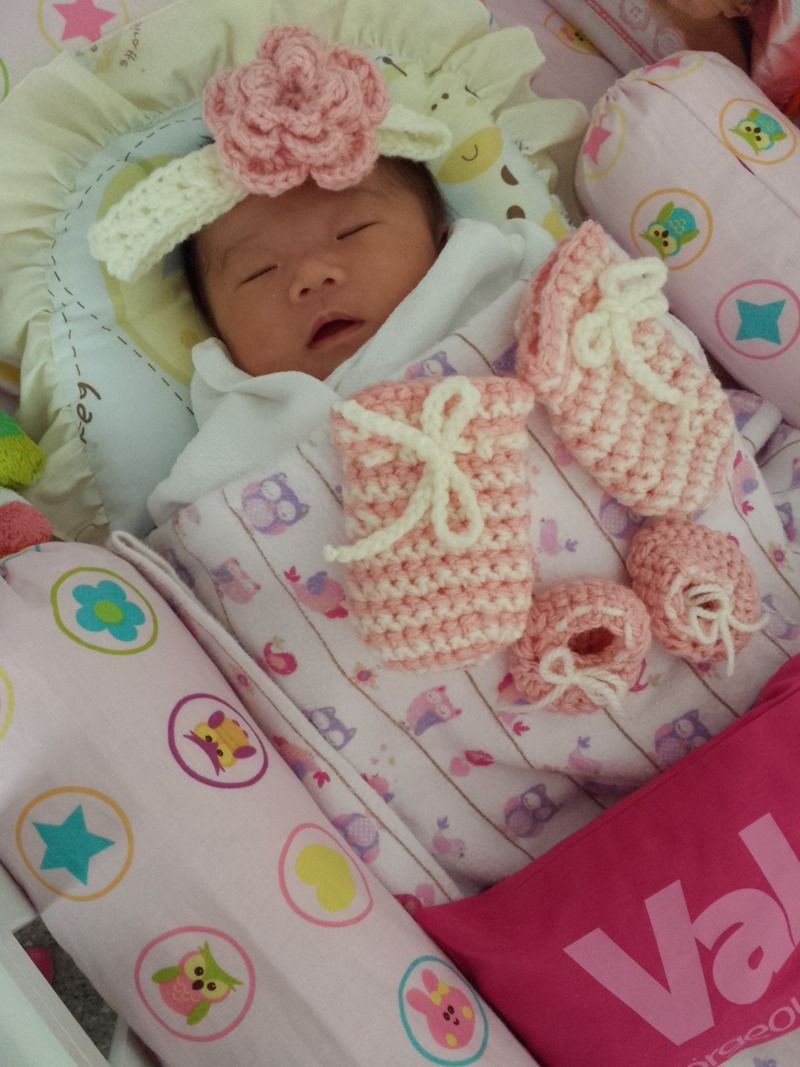 Soundly asleep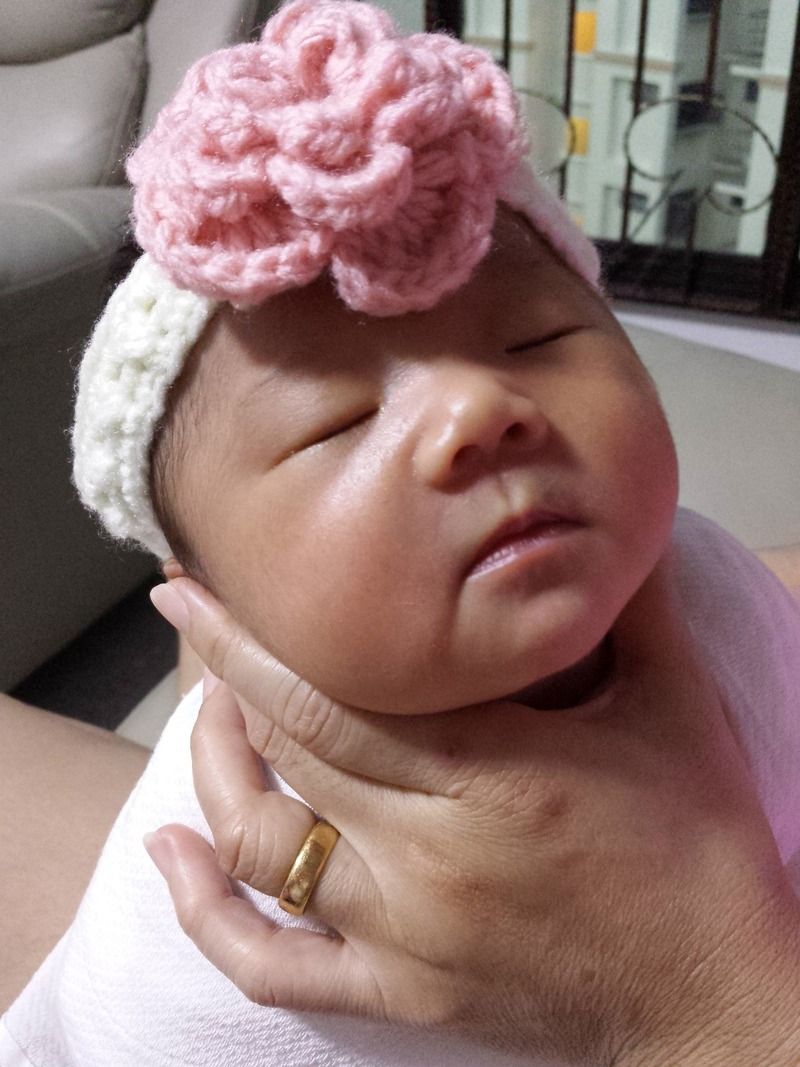 Burping after drinking milk...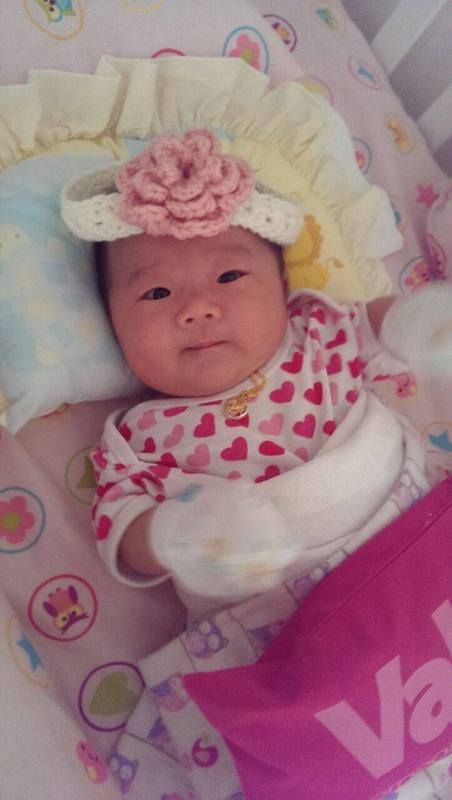 Awake liao!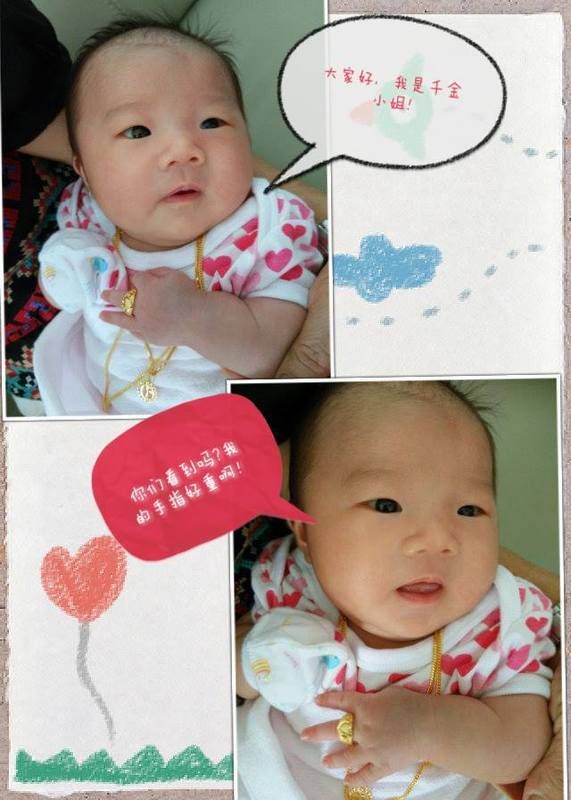 四点金 from her Ah ma! (my mother in law)
So cute right?! Never heard of 四点金 for babies too! wahahhaha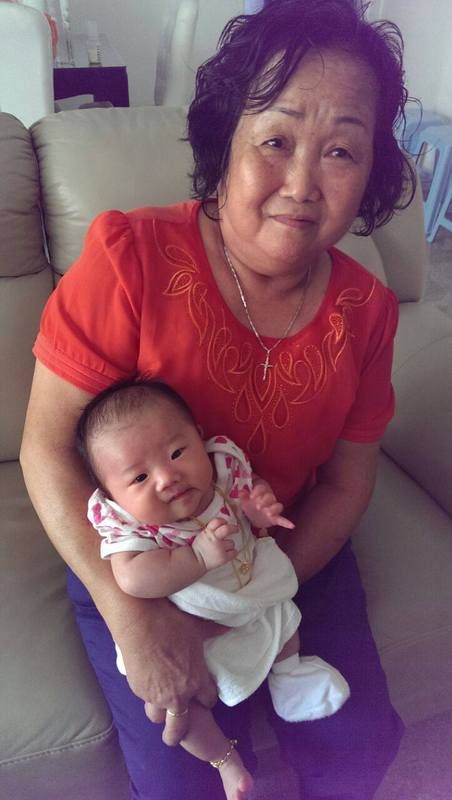 That's my mother in law.... Val's Ah ma!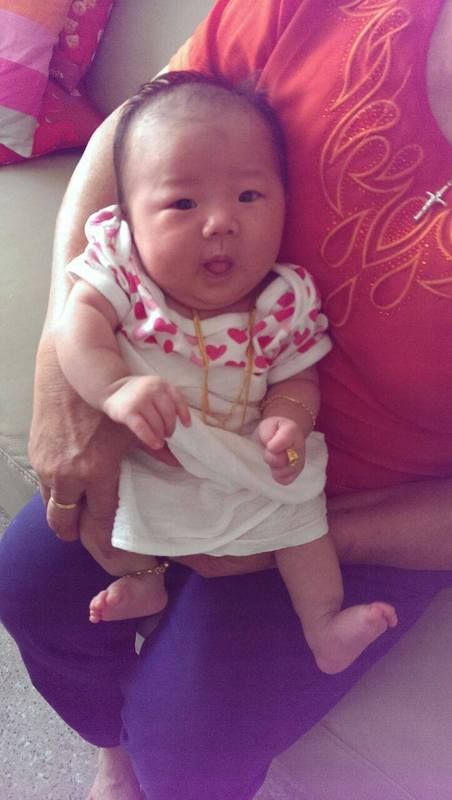 Look at the little cute gold ring!
That's her Ah gong - my father in law.
Annie from AJALYA!! wahahahha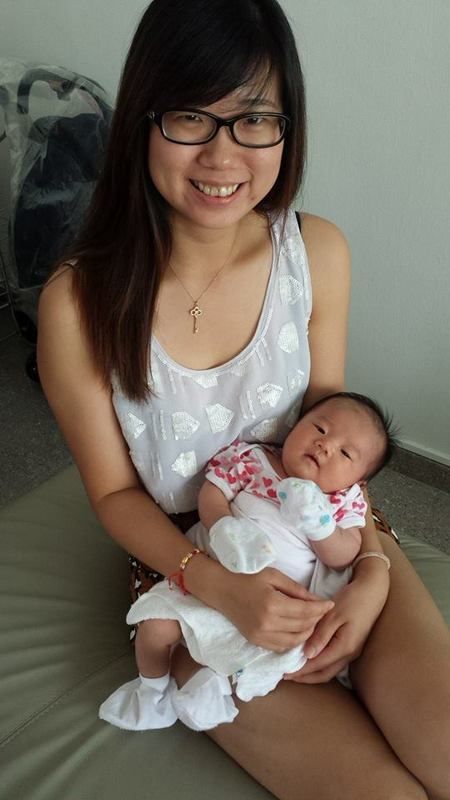 TingTing.... from M.E.A.T (my colleague, haha)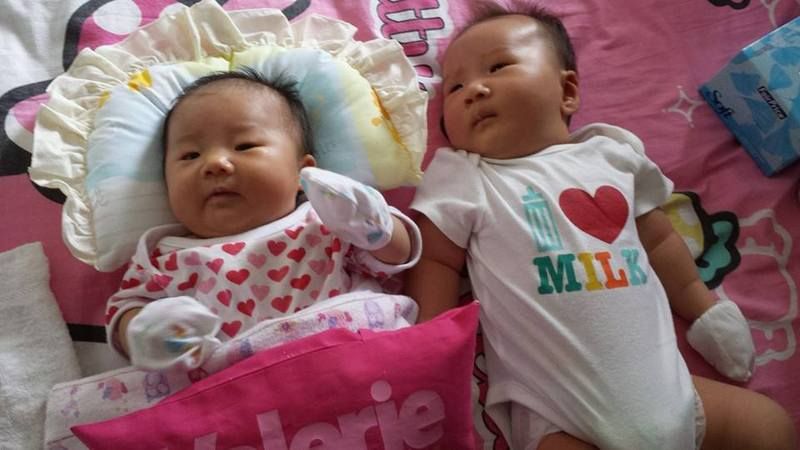 Val and Tim. Just 3weeks apart, but such huge difference in length and weight... haha.
but hmmm... kinda look slightly alike eh... back then.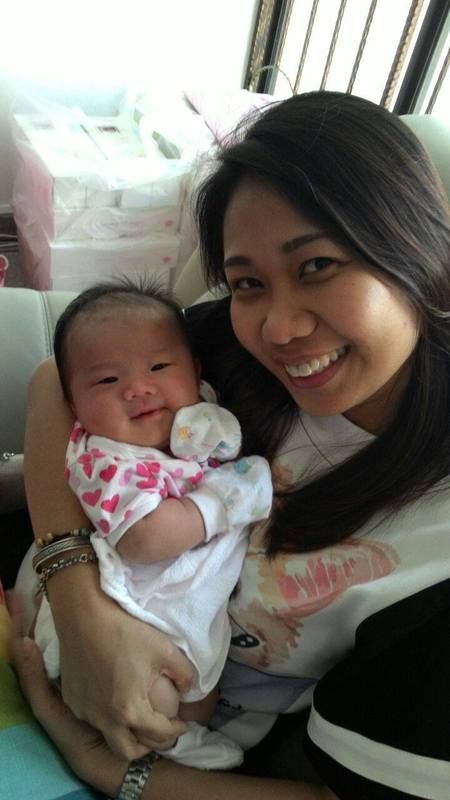 Summer - Sam's god sister.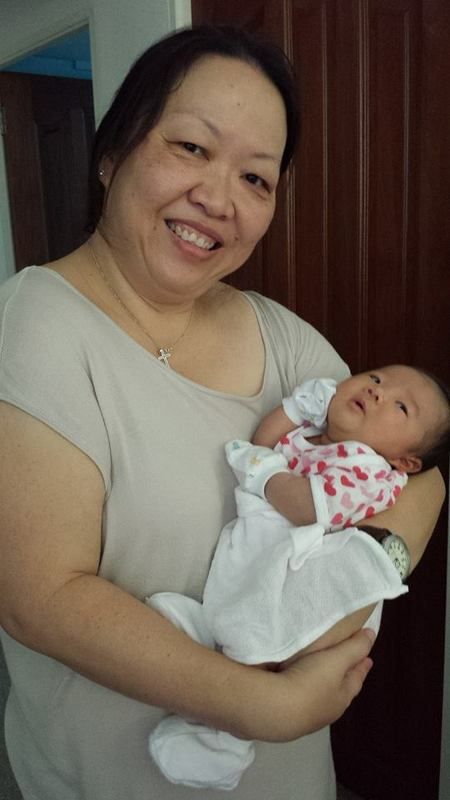 Belinda.... soon to be godmother. haha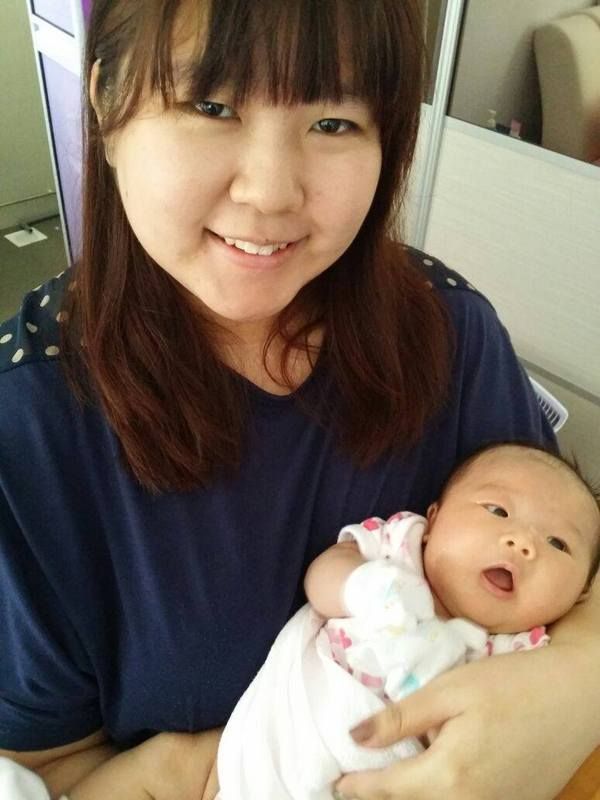 Wan pin... my sec school friend...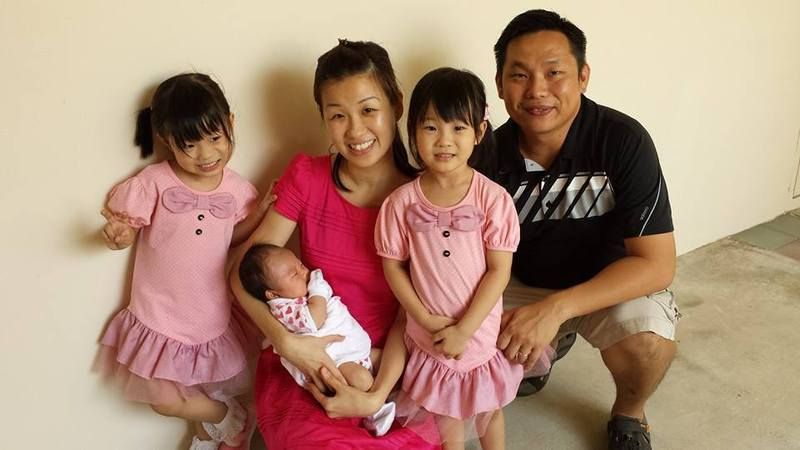 Peiyi and family... Yup, they are twins.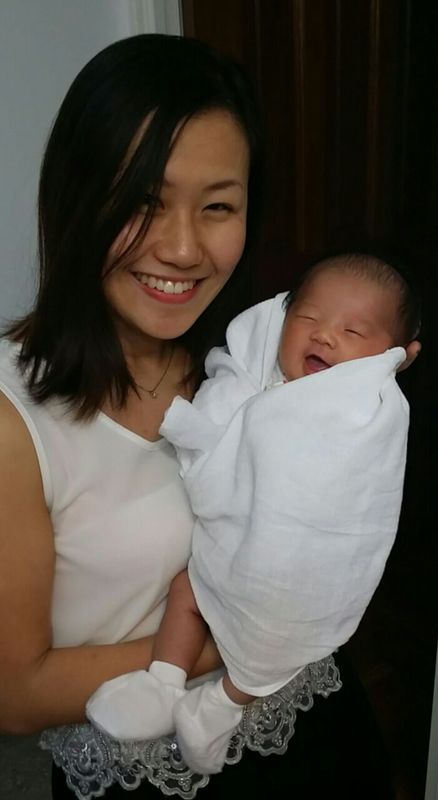 Shanna! One of the 干妈s. so happy huh, Valerie.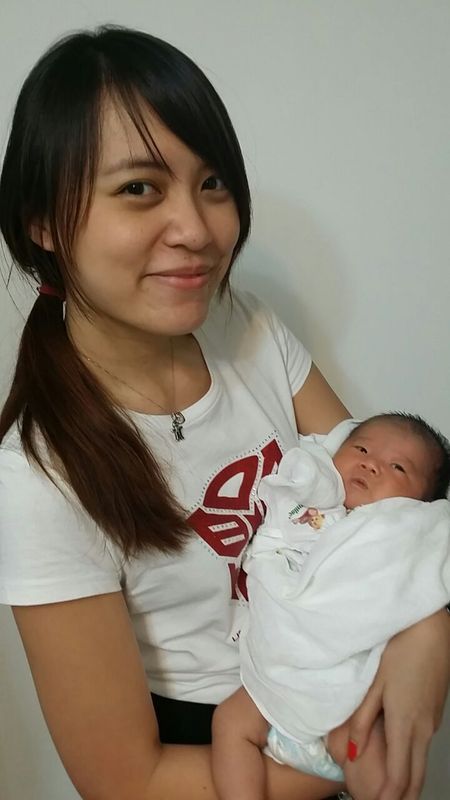 Rayne, the other 干妈. Valerie abit feeling a bit doubtful with this 干妈, dunno she knows how to carry or not.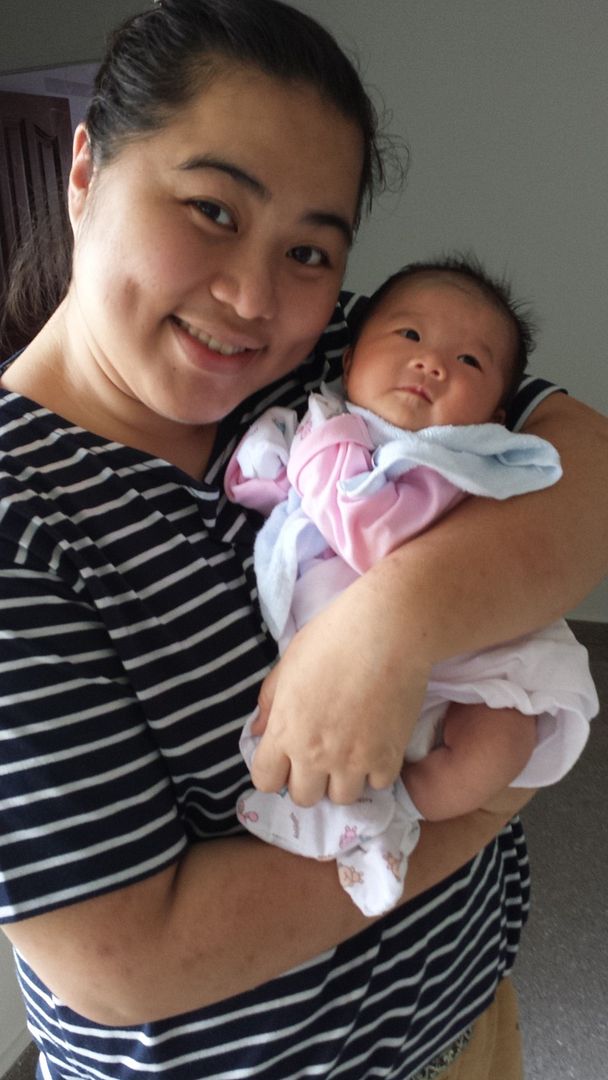 Wendy, also her 干妈. Comfy Comfy cushion. Oops.
Valerie is so fortunate lah, haha.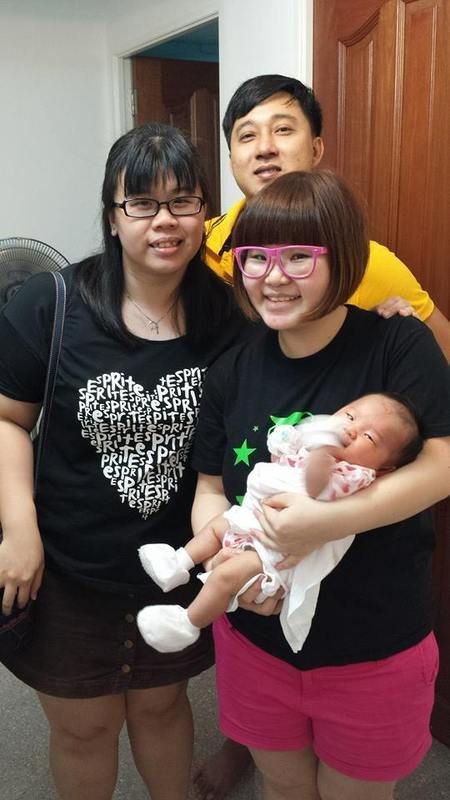 I looked like I'm wearing a wig sia!
That's Yiwen and bf.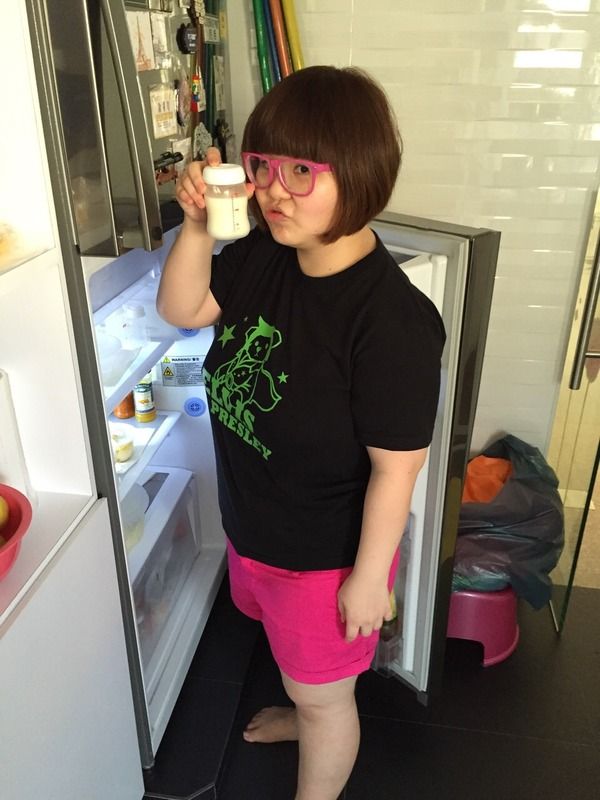 Squeeze milk time.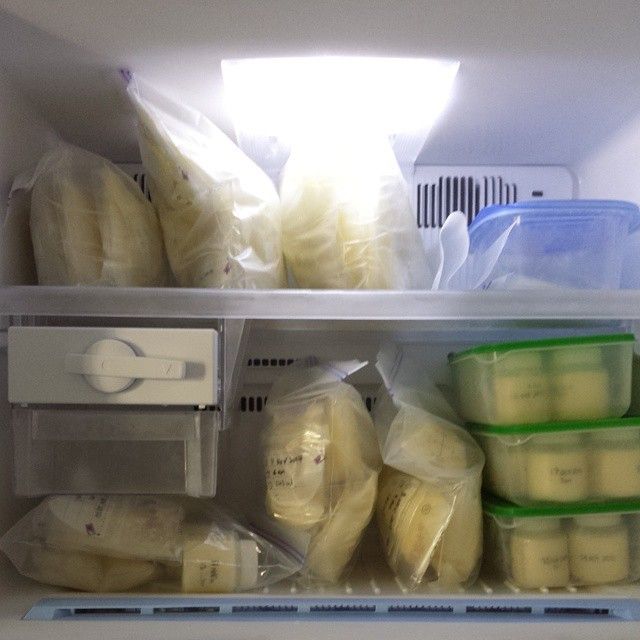 Showing off my milk production. All mummies can do it too! Go GO, JIA YOU!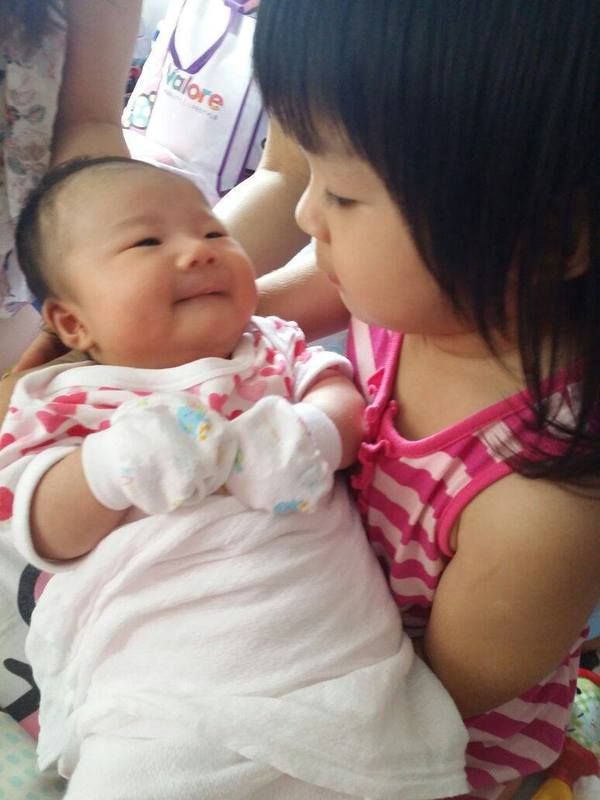 So cute to see kids together.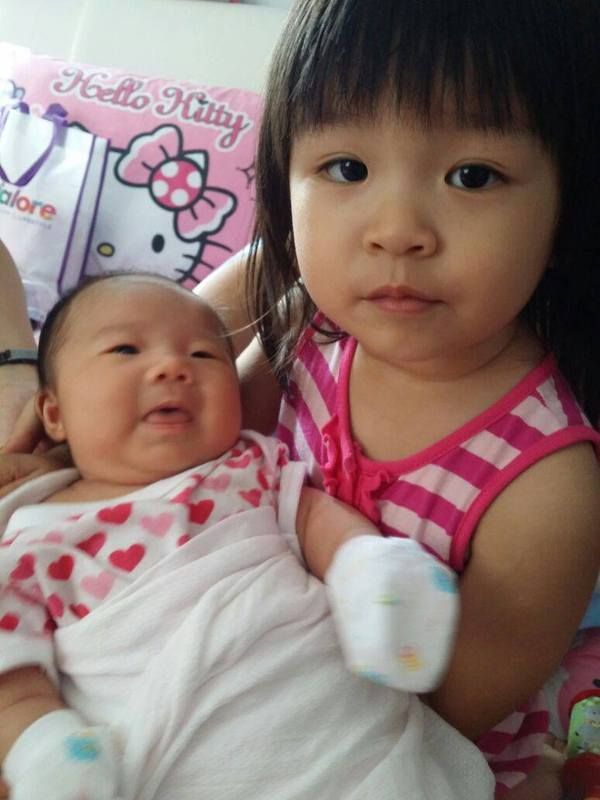 Oops, a bit lost control. Haha.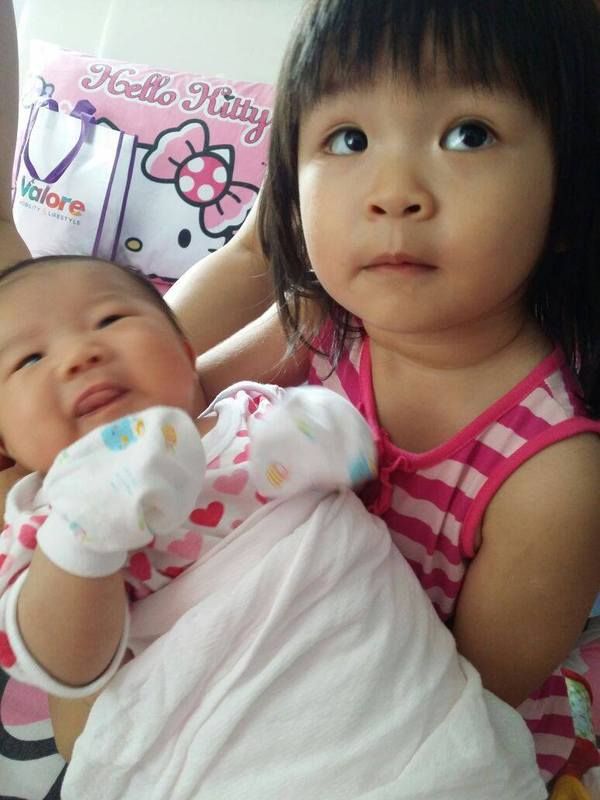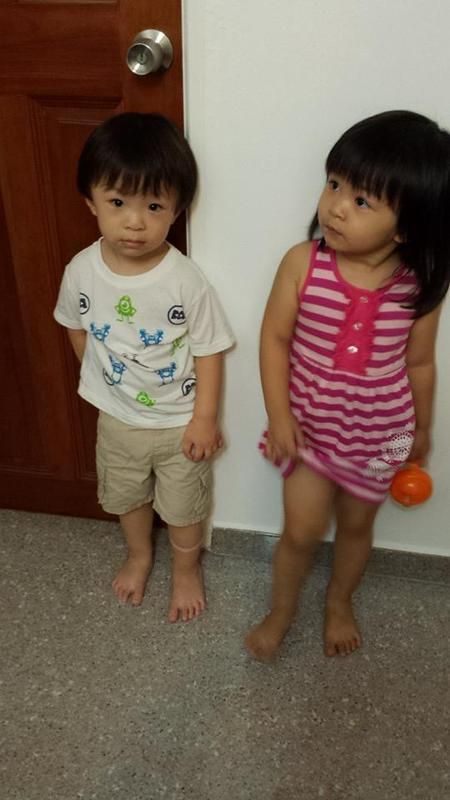 However, when kids got naughty, they ought to be punished!
Stand at the naughty corner. lol.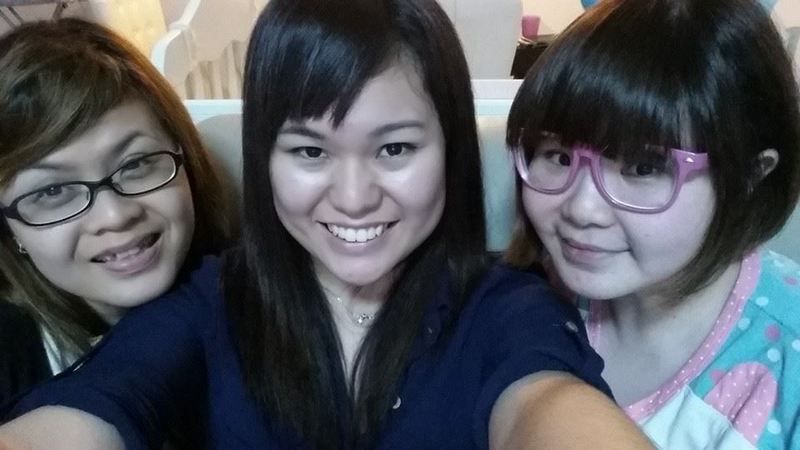 Finally, PINE.APPLE.TART reunited! Sorry, but I couldn't remember who was pine and who was tart.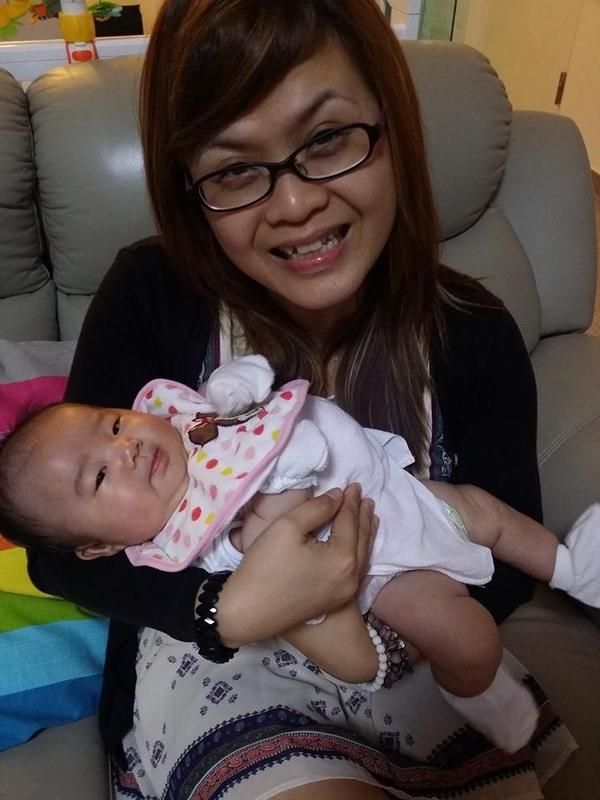 Sabrina.... Shall wait for her good news some day.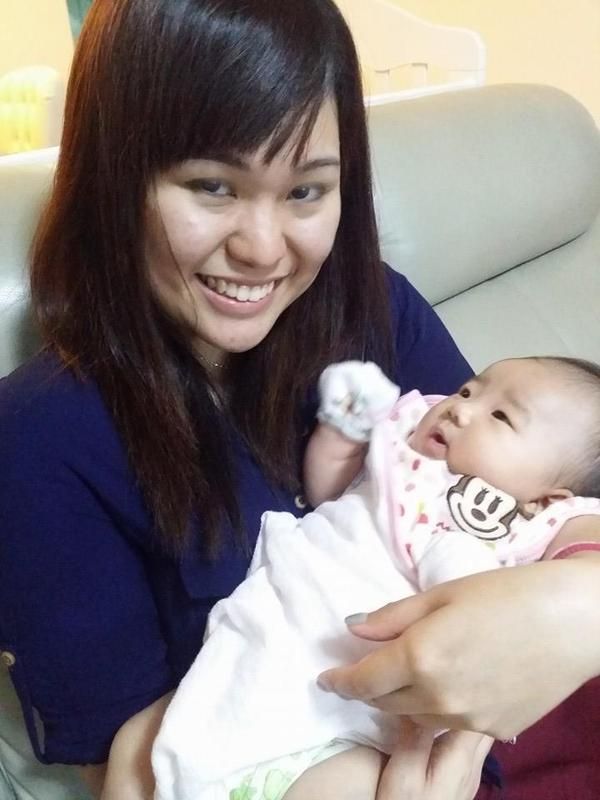 Shot taken by Sabrina. Special eyes Xin wen got. Gonna get the red bomb soon!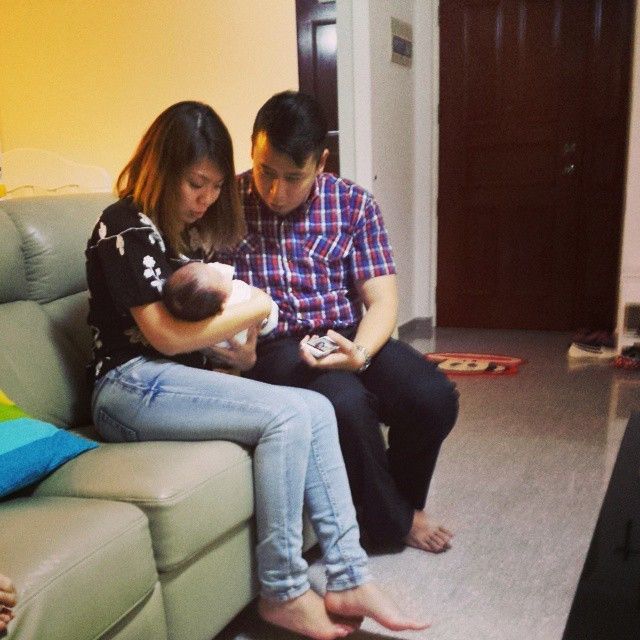 Just received red bomb from them. Congrats!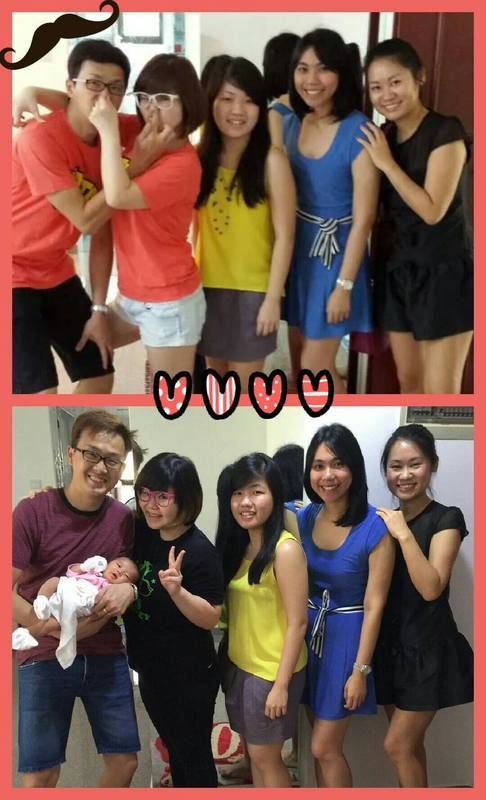 It's AJALY! ok, without the [A]nnie. She came on the actual day instead.
This photo is about a year difference! Top pic was during our housewarming. And I have purposely asked them to wear the same clothes... wahhahahah
A pretty sudden meetup of my JJC 3months course mates....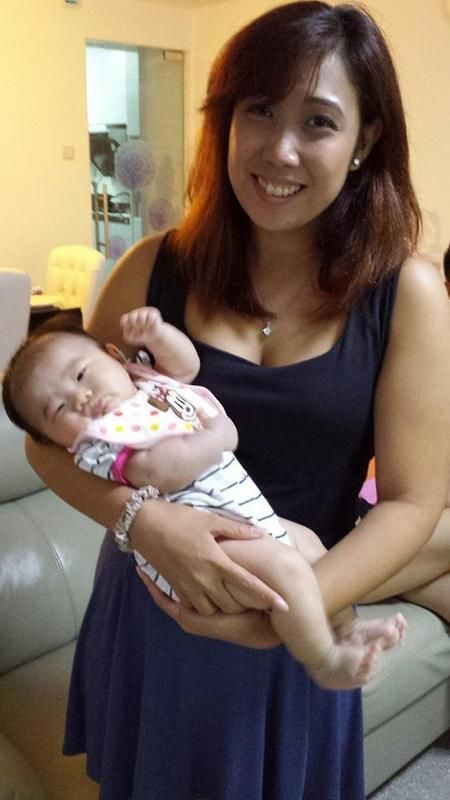 That's Georgina.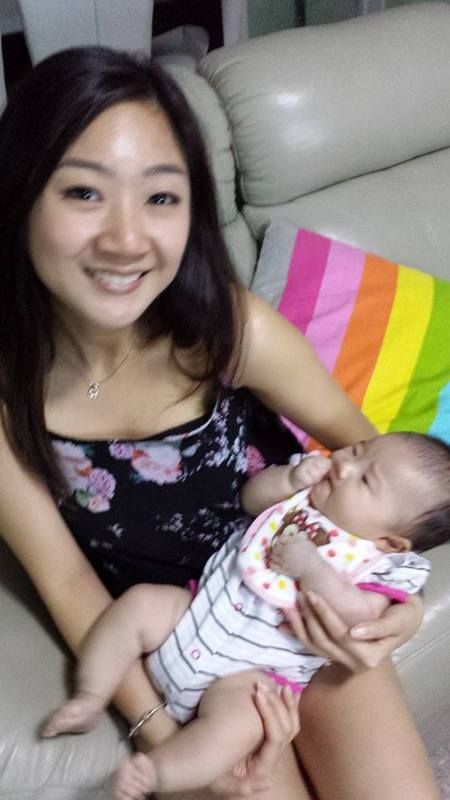 The forever talk like machine gun ah lian Eileen!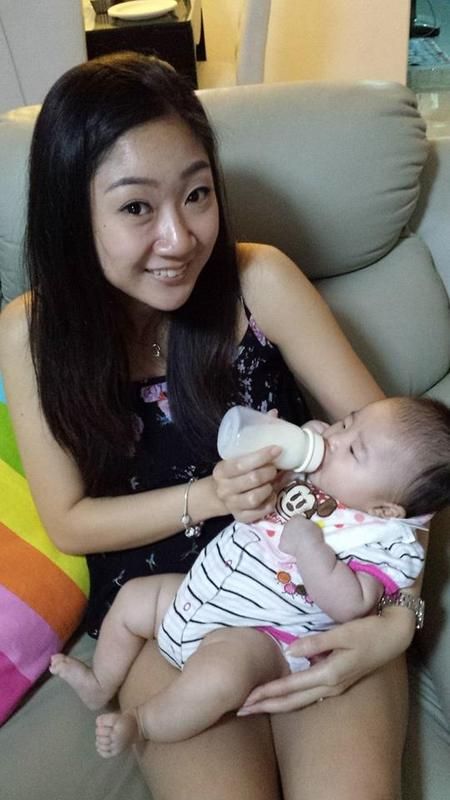 Everything also wanna try.... Another one off the shelf soon too.
It's time to OPEN UP THE PRESENTS!!!!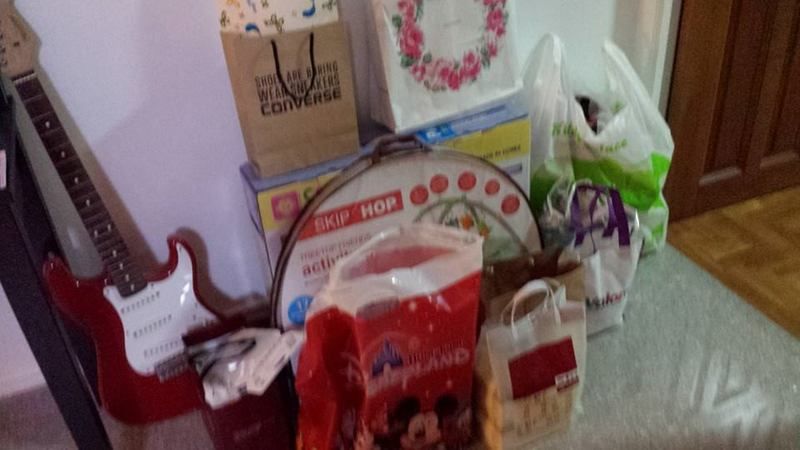 From Poly gang...
I have gave them the list to choose.. wahhahahah...
Oh ya, Mummies out there. You should actually have a list of things to receive as a gift... So that your friends and relatives can do their shopping easier too. And of cos, you'll get something you need which is more practical right?
I personally feel sterilizer is a Need. I thought warmer was good, however, I have never really used it. Haha.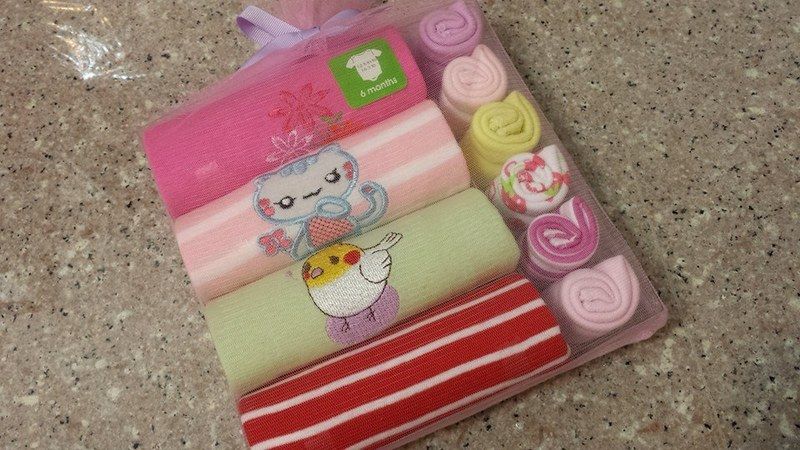 Rompers and handkerchiefs.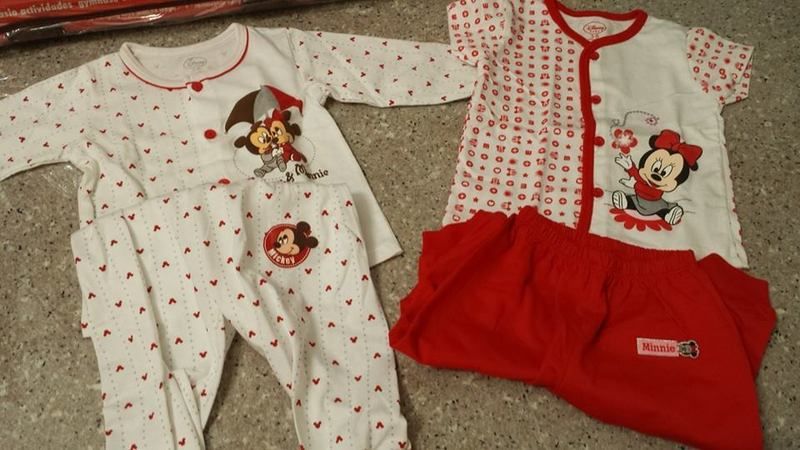 Pyjamas is good.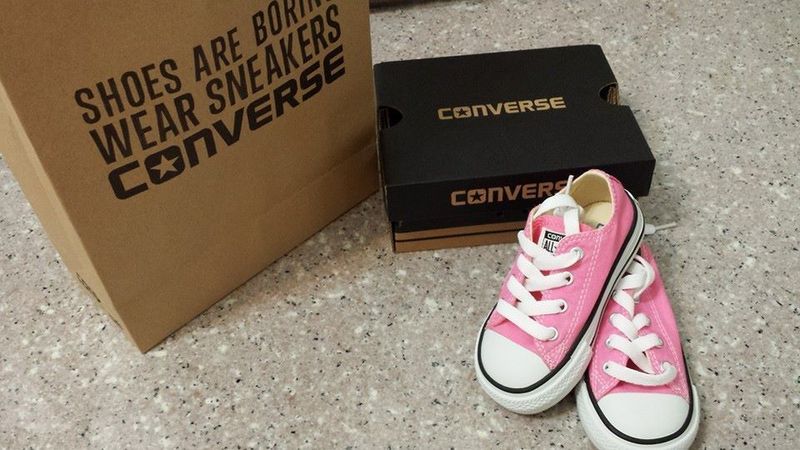 Seriously, I was wondering who actually gave this BIG shoes for Valerie.
And yup I managed to find out who's the person, and she said the Sales person said it will fit the baby SOON... Salesperson is a LIAR! lol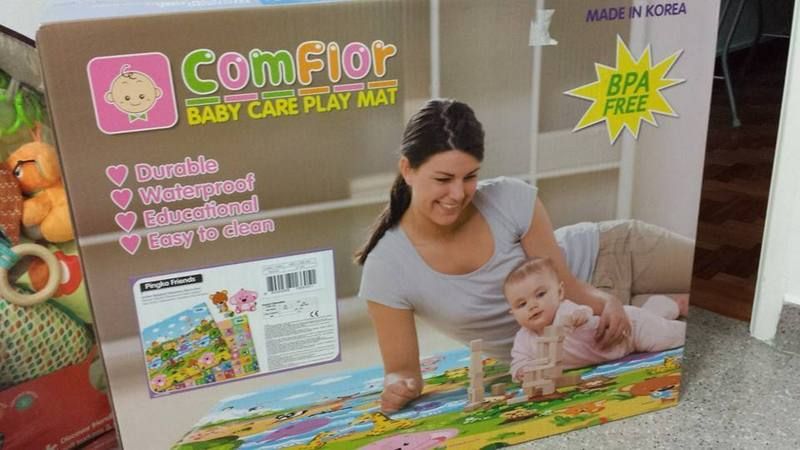 This mat is really good. No wonder so expensive... wahahahaha
From Precious 干妈s
The rattle became Valerie's fave rattle toy. She likes to hold it and shake it.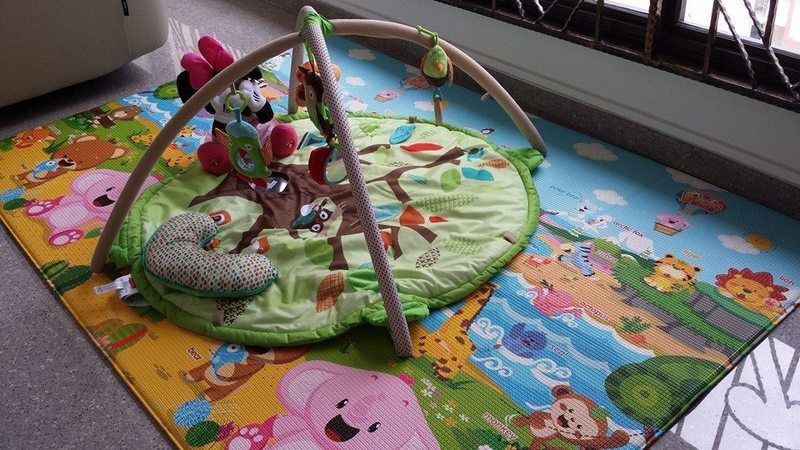 Baby gym preferably for up till 6 to 7months? Cos once they start crawling, you really need the play yard to prevent them from crawling all over.
Cute Chinese new year qi pao... But was too big, shall wait for next year.
Full of apples!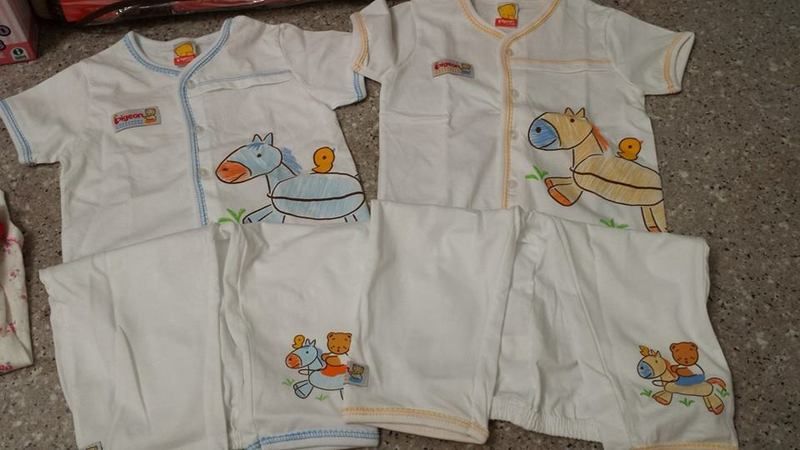 Didn't know Pigeon manufacture baby clothes too?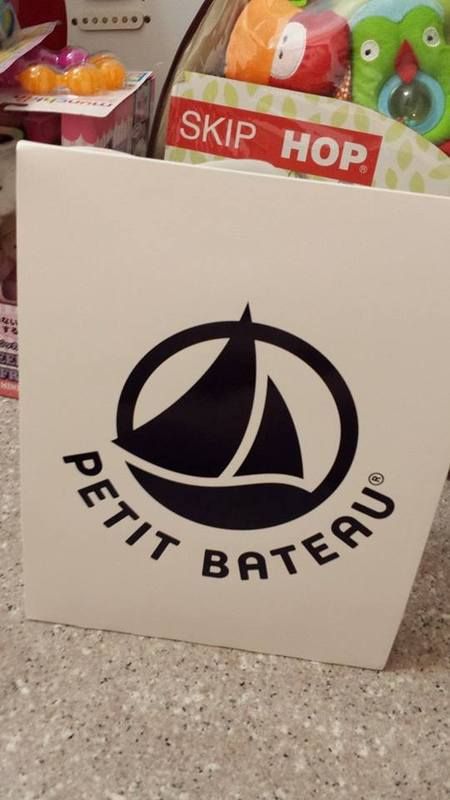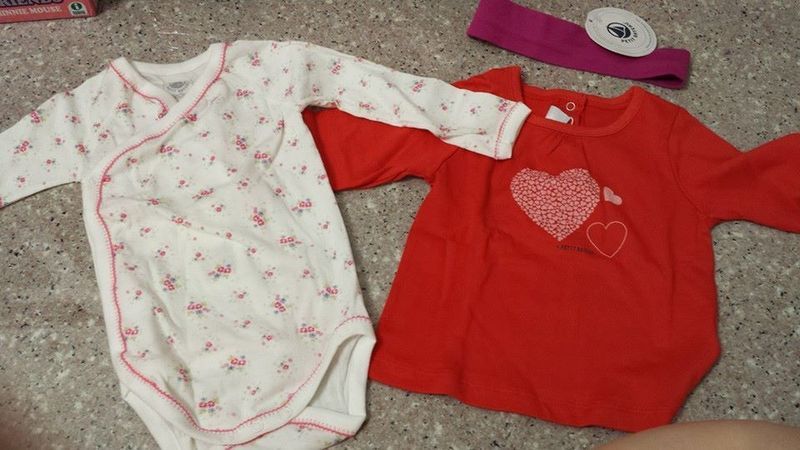 Gifts from my former boss. Pretty sweet.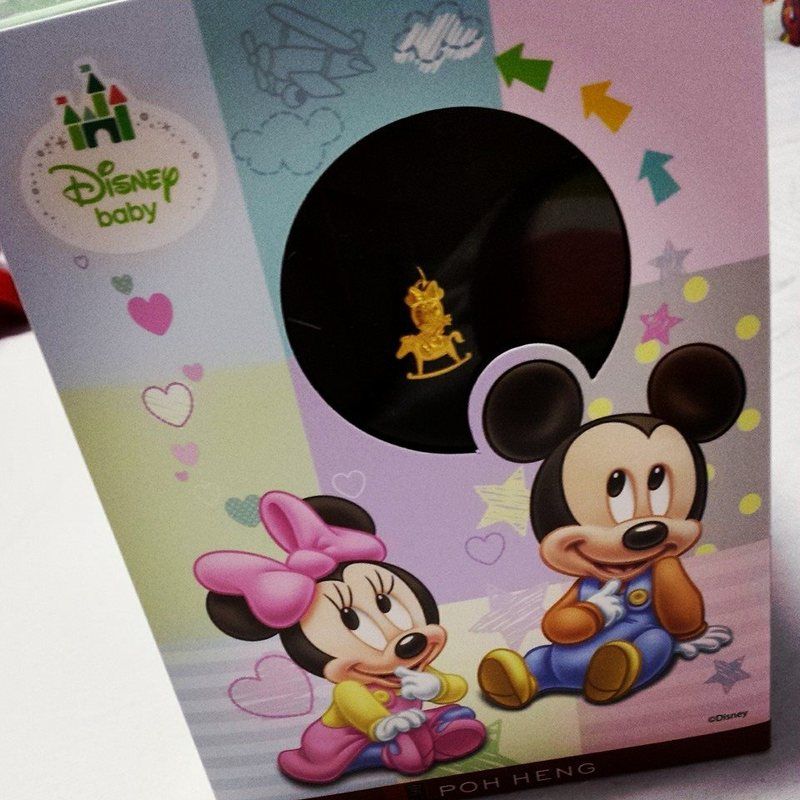 Minnie Gold pendant from 干妈s!!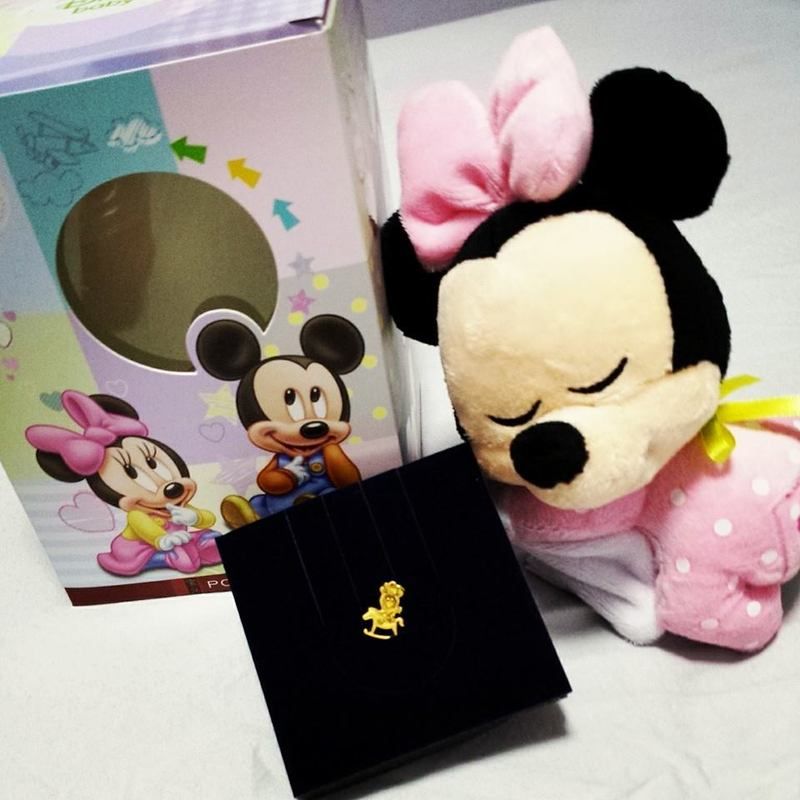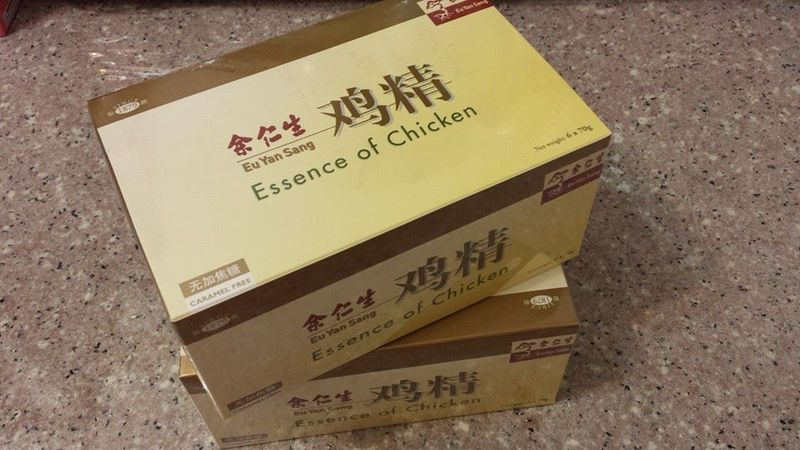 Always the first thing to come in mind for Mummies - Chicken Essence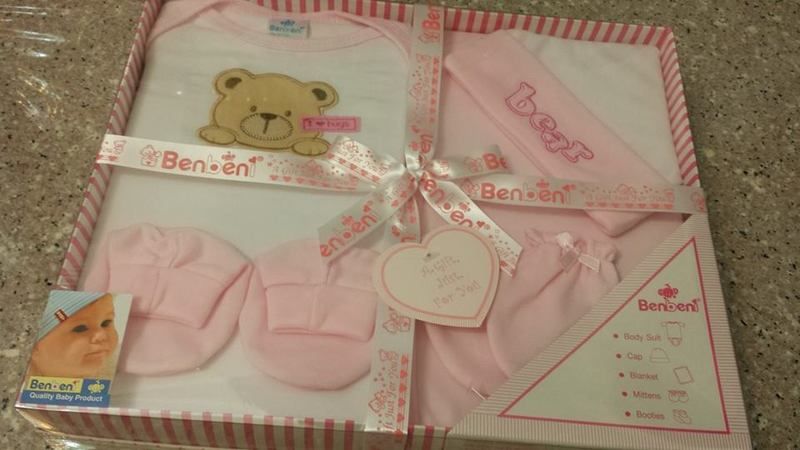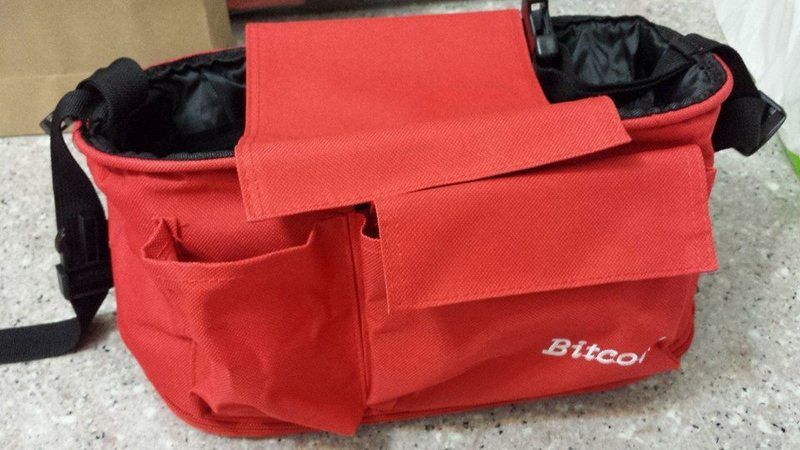 For the pram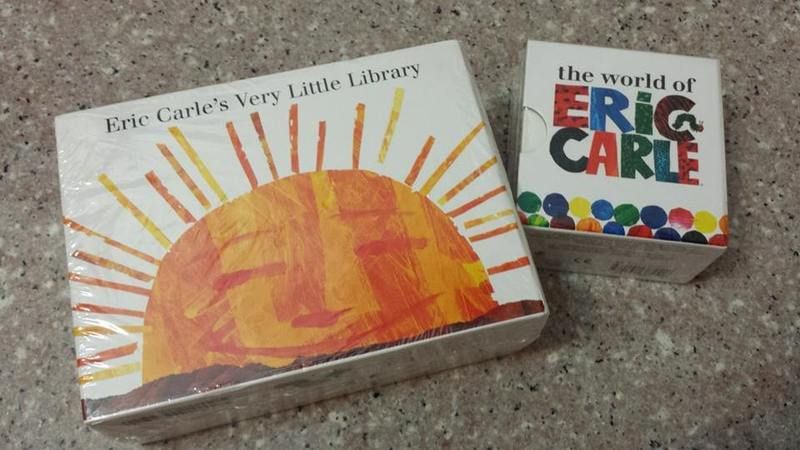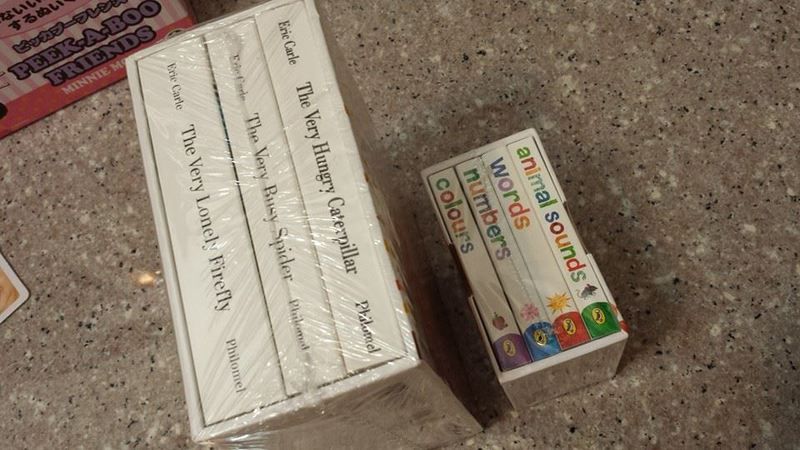 Books from Peiyi.
Actually Books are really like Investments. Its pretty expensive and you don't get to see the result so soon. These books are really good, catched Valerie's attention.
Mummies out there, by not buying a romper, you could afford a book for your baby already.
Start early. Babies can start absorbing when she's 5months old already.
Previously, I kept feeling that the books are expensive. I bypasses the book fairs and bookstore a few times without getting anything. And one day, I decided that books are more important than toys and clothes. Why am I able to just easily buy a $10 romper but not a $10 book?
But well, in the end, I buy them all, clothes, toys and book! wahahhaha... cos Crazy mama is CRAZY!
Toys are important too ya. Educational toys to train their hands-on skill and mind.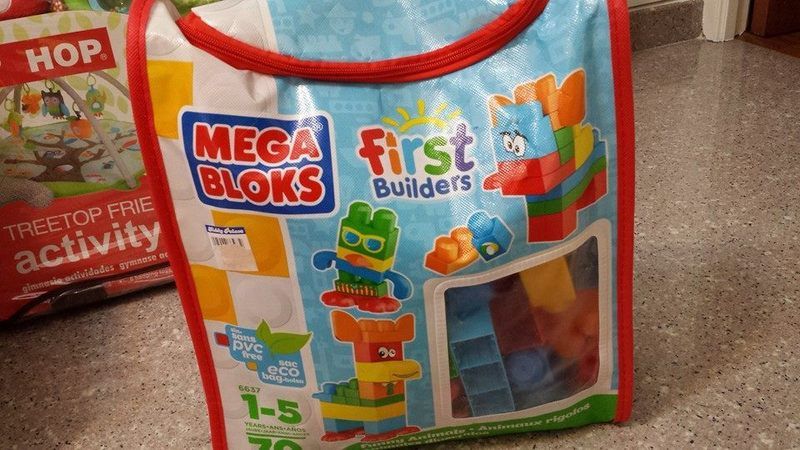 In my storeroom now, awaiting for her to be able to play with this!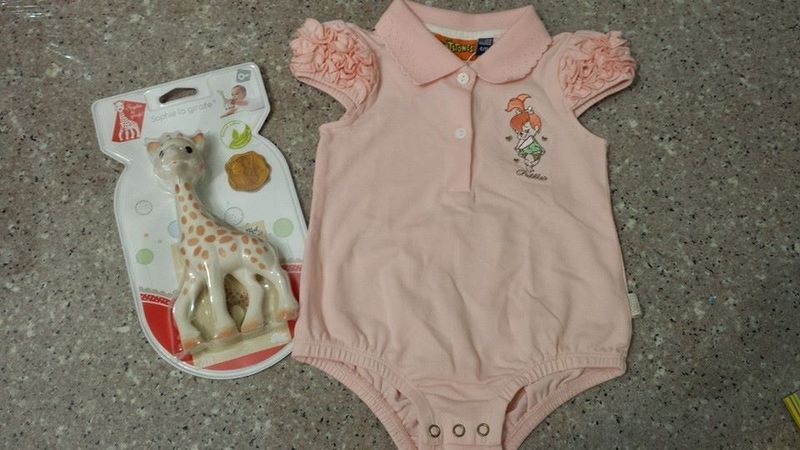 Pretty romper from Bro and sis in law. Was told this romper cost $70. Oh myyyyy....
Organic giraffe teething toy. Indeed, she likes to bite it now.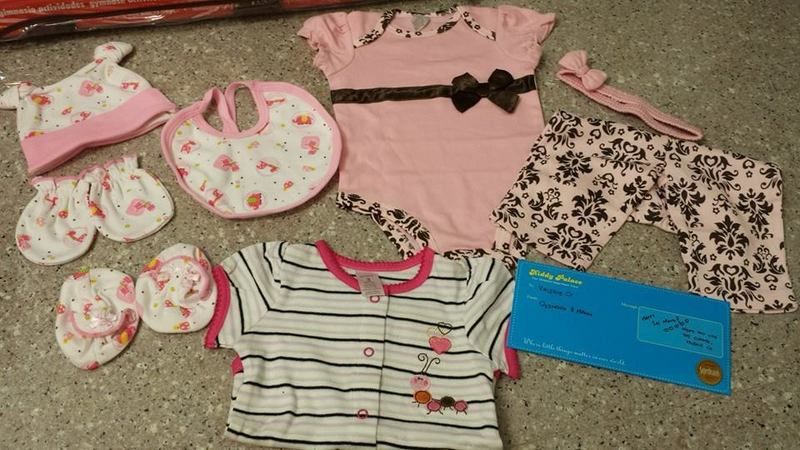 Clothes clothes and more clothes!!!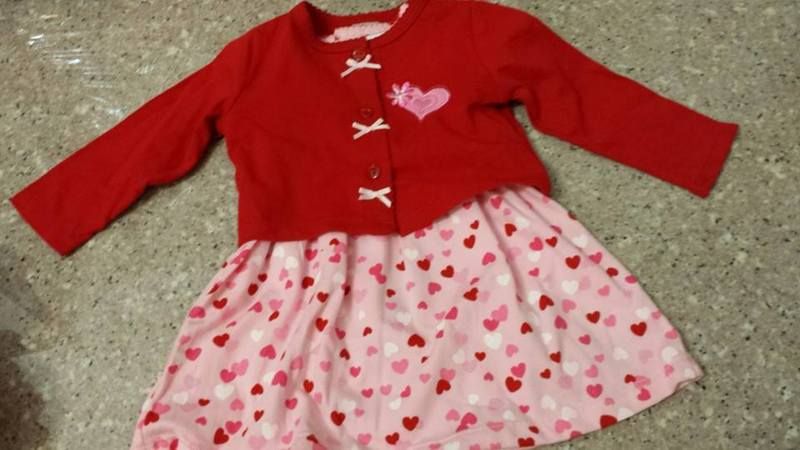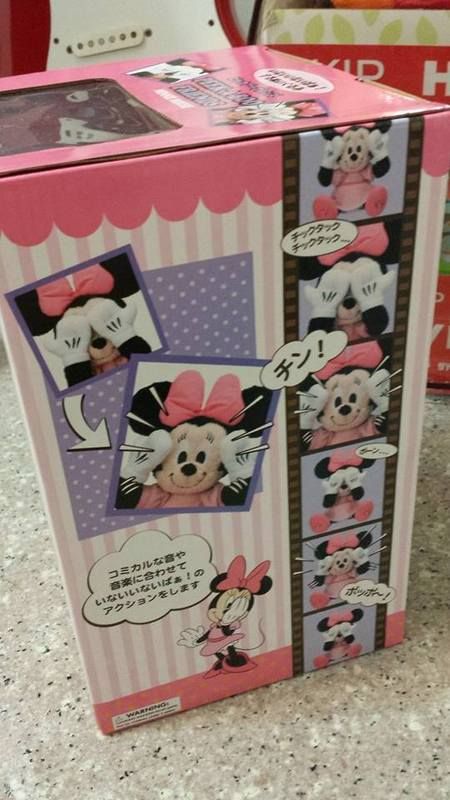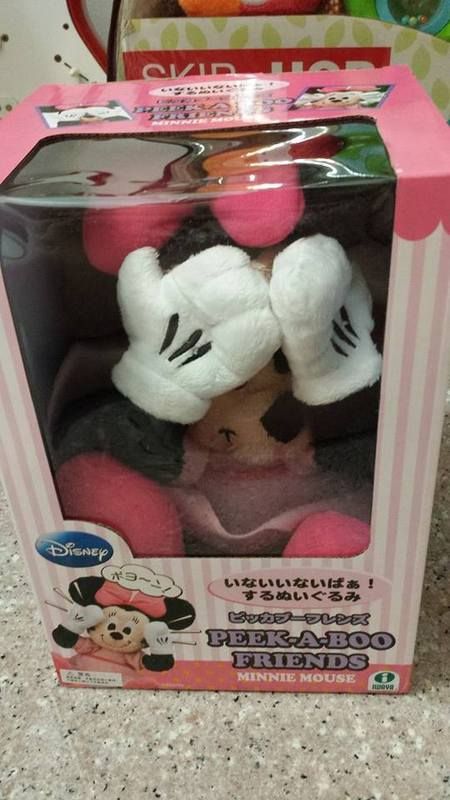 Peek-a-boo Minnie mouse from HK Disneyland given by Wanpin!
Valerie really likes this. And nowadays I need this to get her attention while changing her diaper!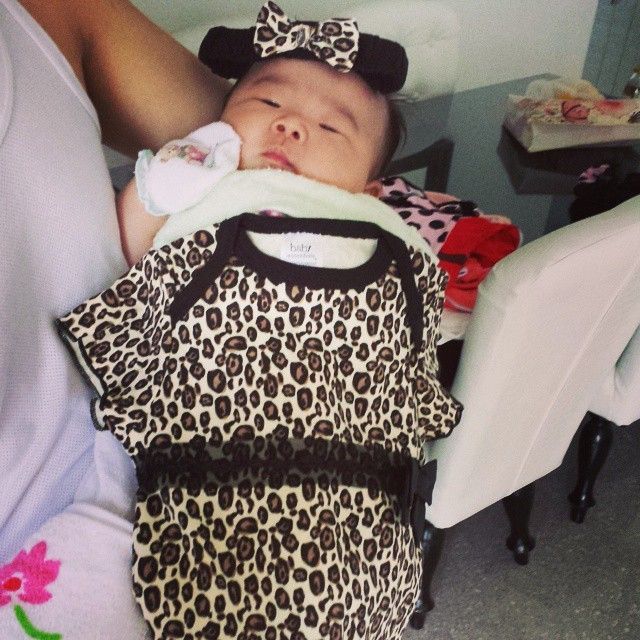 Miss leopard ah lian! lol.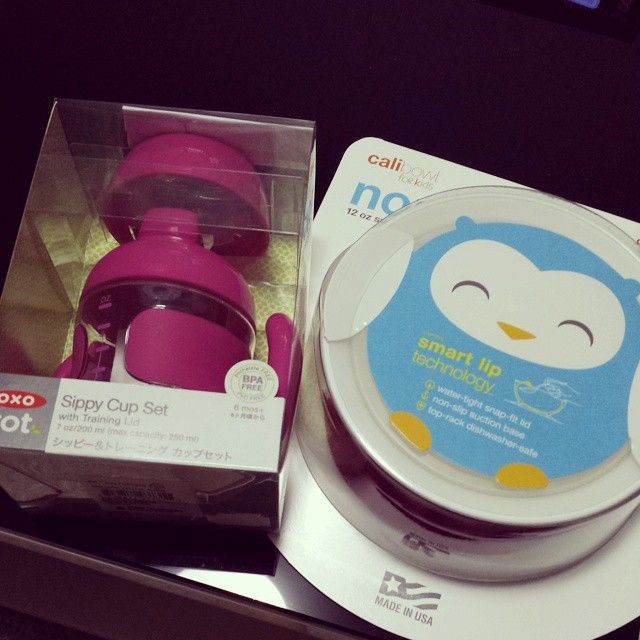 From Erick and Kelly.
Can start using when babies start to eat.
From Sabrina and Xinwen. Cute handmade angbao...
And I almost forgot about this pyjamas... haha... shall take it out now....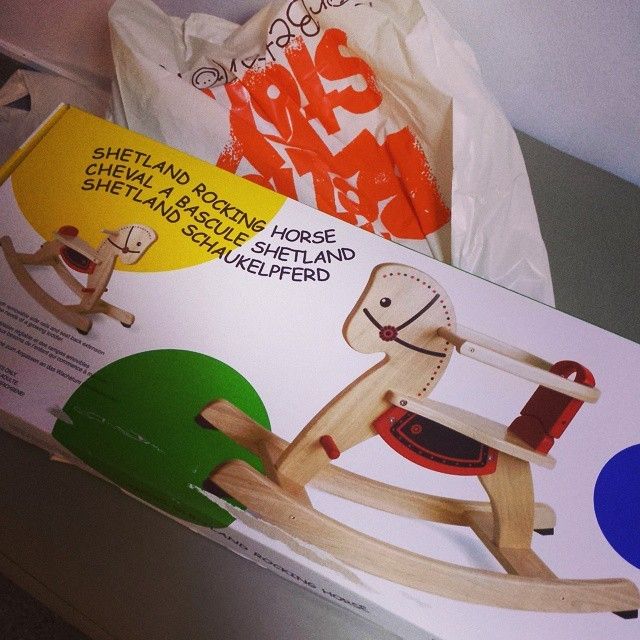 Rocking horse from Xin Yi....
Probably needs to wait for 1 yr old to sit on this!
Its so cute!!
Ang baos....
Valerie is RICH!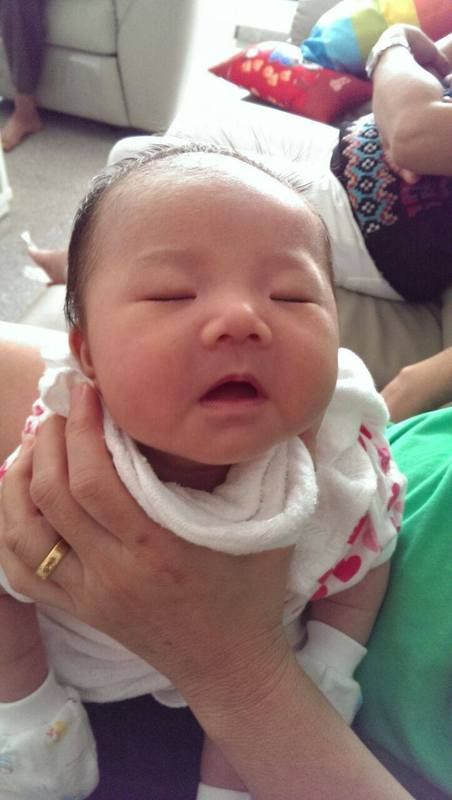 Ok, I wanna sleep liao...
Bye everyone!