Park at Holland Village
Address: 281 Holland Avenue, #01-01 Spore 278996
Opening hours:
Tues to Thurs, Sun 11am to 12am
Fri to Sun from 11am to 2am
Every Monday is closed.
Website:
http://parkgroup.com.sg/
Finally, a chill out after my confinement...
Fyi, i have hired the confinement lady for 2 months. My confinement lady was pretty good, i shall blog about it hmmm some time later... together with all my stories during my pregnancy and post natal period.
During the 2nd month after giving birth... I started to go out, do my hair and nails, meet up with friends. Cos it's really crazy to stay at home for the whole month.
And so I have met up with my colleagues and ex-colleagues (AJALYA) without the last two. Y. A...
haha.... [A]pple. [J]eslyn. [A]nnie. [L]imin. [Y]angrui. [A]udrey
Decided to have dinner at Park - Holland Village.
And before I reached... always do some fast homework... on what are the Yummy and INstagram worthy dishes.... wahhahhhahaha
Park is alone on its own, located infront of the exit of the station, opposite of HSBC and Hatched. There were indoor and outdoor seatings... and yup... I always prefer indoors... cos got AIRCON ma.... wahhahahhaah
But of cos, I'm also ok to stay outdoor la yahhh...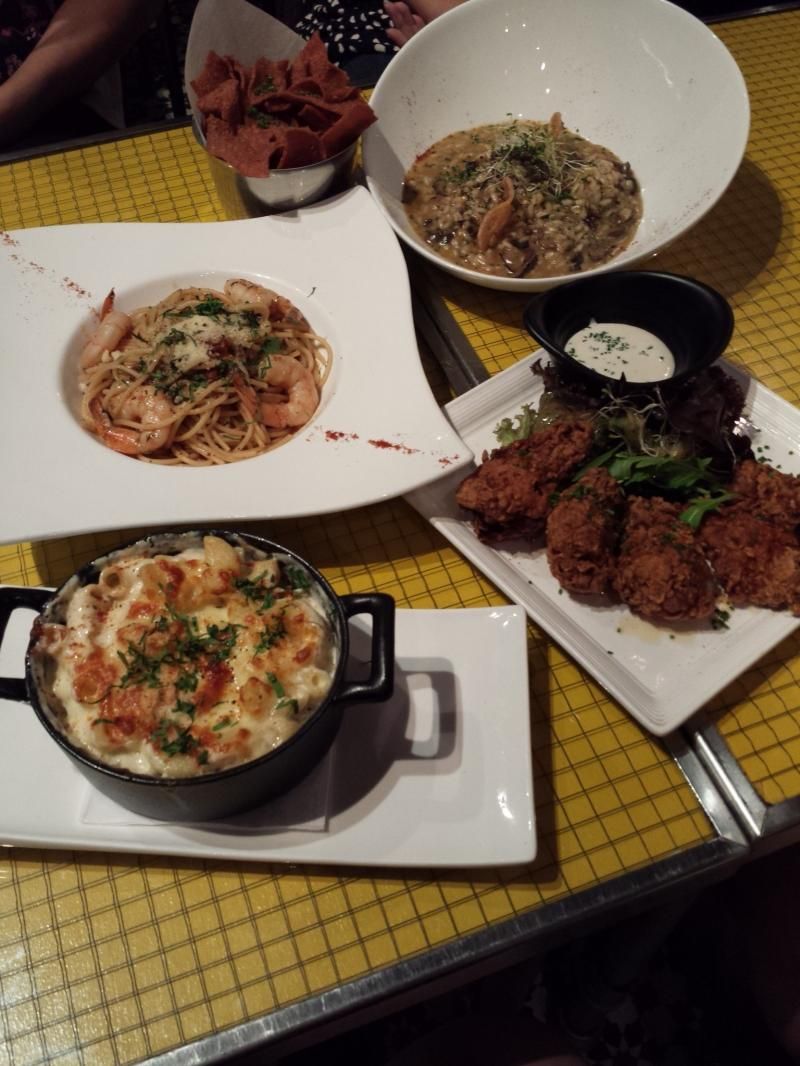 For the appetisers and main course, we have ordered:
- Spam chips $8.50
Pretty crispy.
Eat it while its hot.
- Park Wings $9.50
Nothing fanciful about the wings, was a little dry too.
- Spaghetti Aglio Olio with sautéed prawn and diced pepper $17.80
Am not a fan and don't really appreciate aglio olio... But since my friend have ordered...
have a taste of it... and ya...
conclusion: I still don't like aglio olio.... haha
- Truffled Mac & Cheese
I love this a lot. Although I could smell the truffle, but couldn't really taste it in the dish, not a fan of truffle anyway. But the Mac & Cheese were cooked just nice. It's not too dry like I have tasted a few elsewhere. I finished every little single bits of it! Awesome!
- Mushroom Risotto
Tasted not bad, slight wet. But overall, still taste good.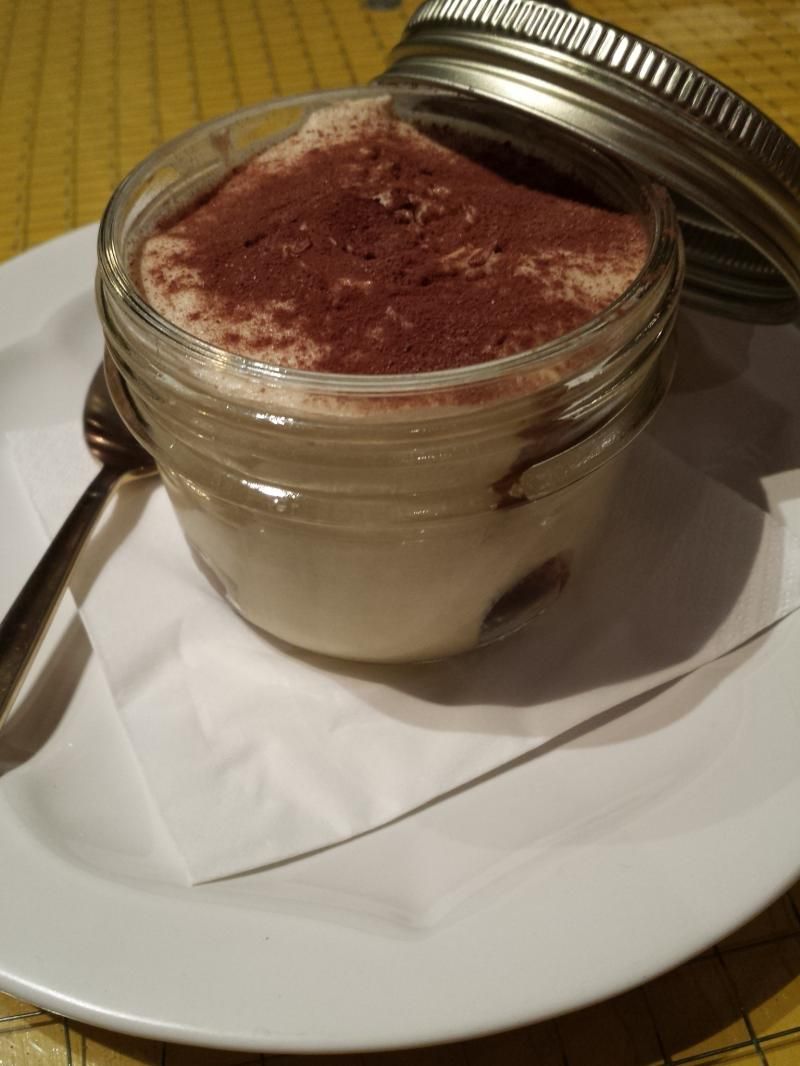 Tiramisu
Quite yummy. Finished within minutes. :)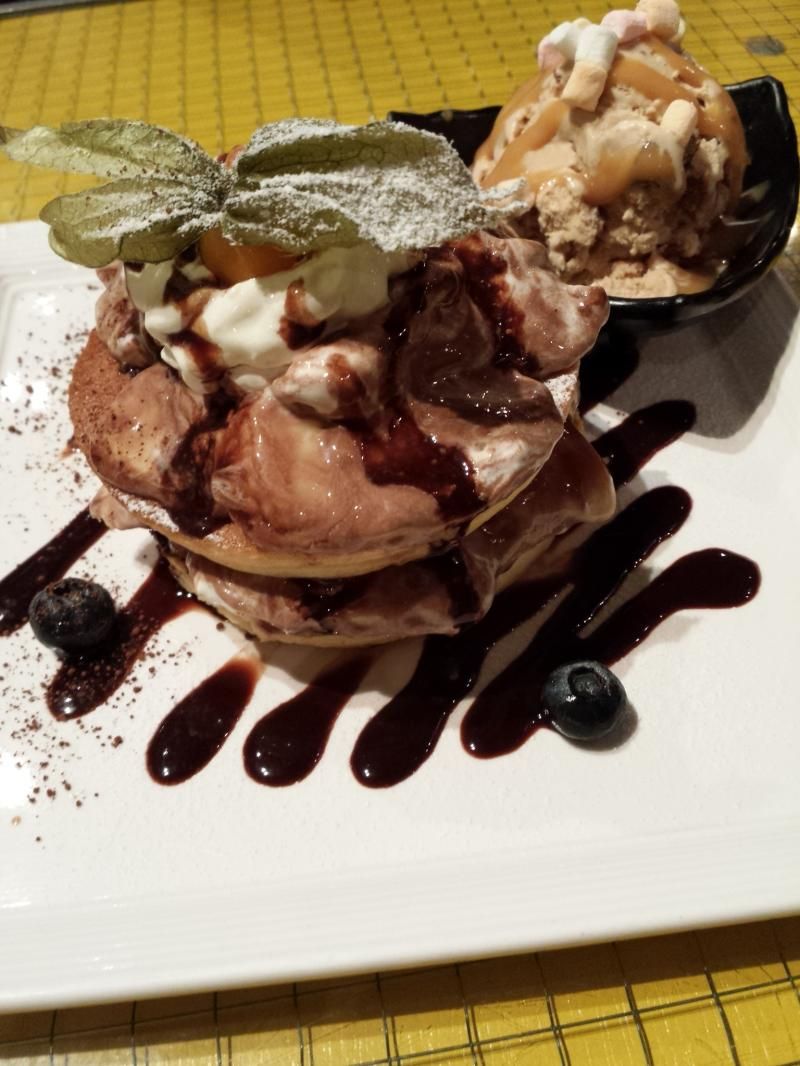 Pancakes with Choco Bananas $12.50
Saw a lot of people posted the pancakes on instagram. So, it seemed like a MUST-order dessert.
However, it was really disappointing. Apart from the pancake, everything taste just fine. But the pancake tasted horrible, not sure if its just that night?
Average price per pax: ~$25 - $30 without alcohol
Overall, its quite a nice place to chill out. Should really try the mac and cheese. Pretty accessible location.