Dulu Kala
Address:
Beauty World Centre, 144 Upper Bukit Timah Rd #04-04 S'pore 588177
Opening hours: 12 to 11pm
Dulu Kala is a Perankan restaurant with traditional comfort food at a affordable price.
It's a pretty pleasure and comfy place to dine at.
Check out their website for more info (menu, etc)
http://www.dulukala.com/about_us.html
It was recommended by some colleagues, saying the food were pretty authentic and good.
I seldom or hardly eaten perankan dishes... except for their nonya kueh...(all the sweet sweet kueh, oh and nonya dumpling ba zhang)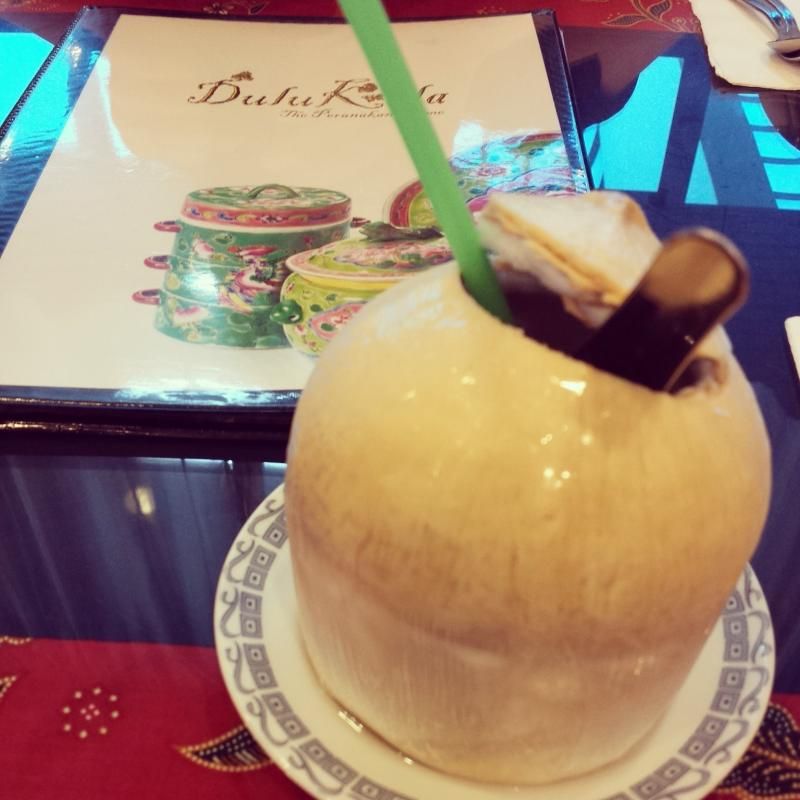 Coconut drink for the preggy mama.... (during last trimester)
Heard its good for baby's skin? smooth fair skin...
hmmm.... my baby does have smooth skin... but all babies should have smooth skin bah?
Sambal Petai
It was my first time trying petai, and it wasn't as bad as I thought, surprisingly good. The portion of petai was quite generous. And it definitely goes pretty well with sambal. Yummy! We even ordered a second serving of this!
Nonya Chap Chye
Consist of cabbages and black fungus and mushroom. Kinda like our usual chap chye, just slightly sweeter with the brown bean paste sauce?
Ayam Buah Keluak
It's a bit spicy, a bit sourish. pretty interesting, goes well with rice. But I didn't know can scrap the inside of the nutty shell. What a waste.
Assam Fish Head
This was good. And I believe my hubby will love it. The fish was tender, the gravy was a bit spicy n slight soury. Also, goes well with the Thai fragrant white rice!
Bakwan soup
This soup was pretty normal, not what I expected. I find it a little bland though.
Otah
Not too spicy, just alright for me.
So overall, after tasted perankan food, it wasn't quite what I expected though. I thought it would be pretty spicy and strongly flavored. So, it's actually like some homely cooked food. The atmosphere was cosy, service was not bad. I did not wrote the price, cos hubby threw all my receipts away. But I recalled that it wasn't expensive, definitely affordable price.
Yup, so go try if you are a fan of perankan food, I bet you will love it.
See ya!