Part 4 already~ on my actual birthday~
For the first time, I'm working on my birthday itself, and not having any activities on the day.
Firstly, no more leaves. Secondly, maybe i'm getting old or a better word, matured now? lol... This time round i would prefer to just have a simple dinner at home with my hubby and family members.
Think i'm getting prettier each day...
Dont you think so too? haha~
So, its my birthday today.... and i know my fellow AJALYA colleagues will not forget about it, with so much hinting that i'll not be taking any LEAVES on my birthday... wahhahahaha
AJALYA = [A]pple [J]eslyn [A]udrey [L]imin [Y]angrui [A]nnie
a bday small card cum flag... made by limin! So cute~!! my mama...
Limin's is like our mama.... although she's one yr younger than me....
but she's got all that a mama has... lol... except kids.. wahhahahah
Oooiii.. AJALYA la... wrong position la Limin....
I love my fringe (fyi, i trimmed it myself)
Cheesecake!!! after hinting for so long~ yeah!~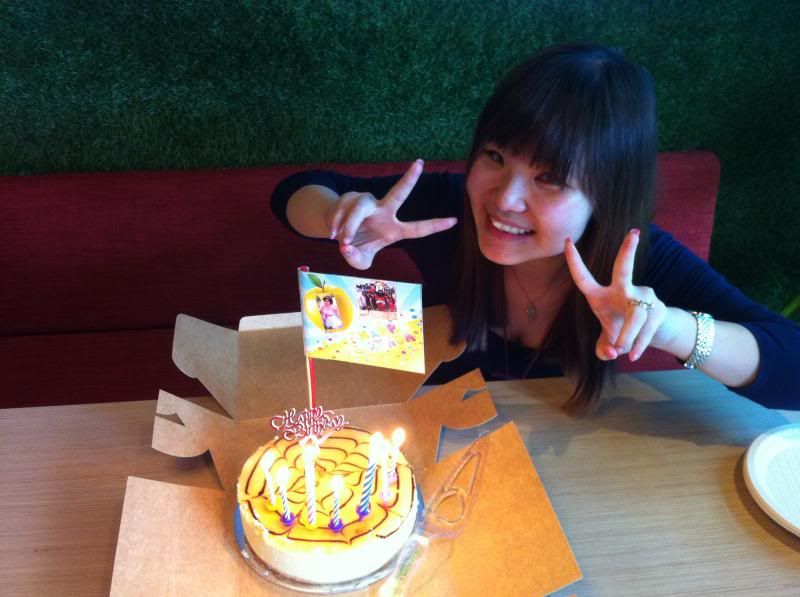 Wishing time~
With the flag there... a bit difficult to blow lei...
Thai food lunch ordered by them~!!
Yummy!
Food delivery from this below website
The food taste really not bad, wuite spicy too...
This is the 2nd time that we have ordered this~
http://www.thaitogo.com.sg/
Anyway, i have realised that we did not take a group photo that day...
nvm, next year!
End of my part 4 bday celebration~
Last one to go....
wahahhahahahHHAahhahahha
Check out Part 5 with Hubby and family
Part 5 with my hubby & my family