ok, so how i gained the 17kg?
Eat and eat non stop lo.... wahahhahaa...
If u guys have been following me in FB or instagram, you should have realised the pictures i have posted were all just FOOD food and more FOOD....
I seldom take selfies now... because..... i dont wanna scare you guys off la... like a fat ass now... whahahah...
Cafe hopping is like a trend now eh... Seeing many ppl posting their CHECK-INs in different cafes now and then... So, i have been to a few too, to have a feel of these CAFEssss.... So most of the cafes sell waffles, egg benedict, some signature pastries, some with 3d art coffee, etc.... I also realised most of these cafes are situated at super ULUs place ya...
My lil bro brought me to "THE COFFEE DAILY" on my birthday this year to have their rainbow cake, well cos i requested rainbow cakes for all my birthday celebration this year... wahhaha.. will post on rainbow cakes in subsequent post.
1. THE COFFEE DAILY
Address: 75 Brighton Cresent, Spore 559216
Phone: +65 62848894
Open hours:
Mon to Thu 12noon to 10.30pm
Fri 12noon to 11.30pm
Sat 9.30am to 11.30pm
Sun 9.30am to 10.30pm
The cafe is at Serangoon area, pretty ulus actually. But there's a bus stop nearby about 5mins walk if i'm not wrong. But i went there by cab though... heeeeee
Cos its been some time ago already, so I'm trying hard to recall as much as i can.... as i know preggy ladies have weaker memories....
I wouldn't say its a very fantastic one, but its kinda cosy and the staffs were friendly.
They have all day breakfast, ice creams, cakes, smoothies, coffee..... in their menu.
I find the food was soso, price wise abit on the higher side.
It cost almost $50 for just the breakfast set, smoothie, rainbow cake and chocolate lava cake.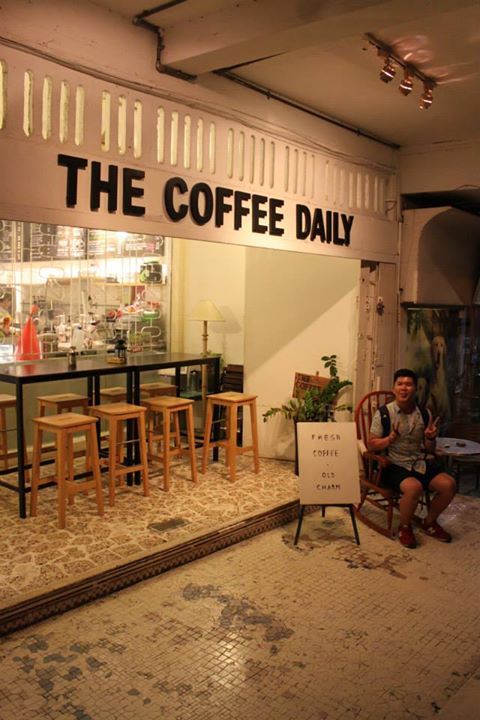 Can you see the pui pui me?
That's my lil bro... with the strawberry smoothie and breakfast set.
Here comes the rainbow cake...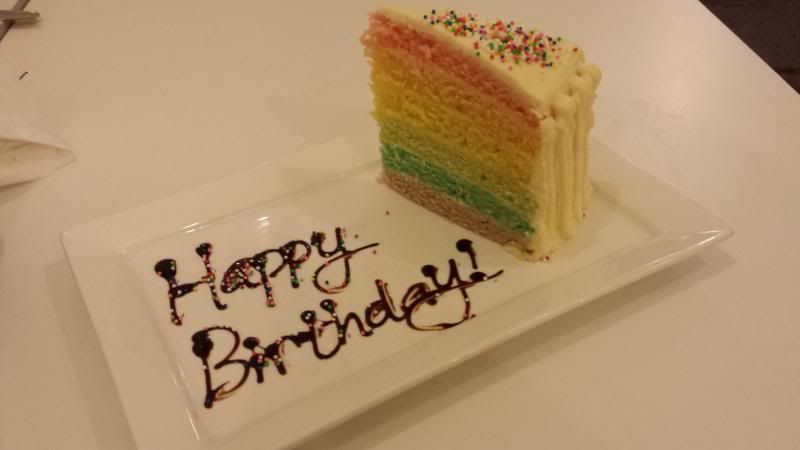 It's really just pretty... wahahha... doesnt taste like how it looks...
Somehow i feel it taste a bit like "Fa gao"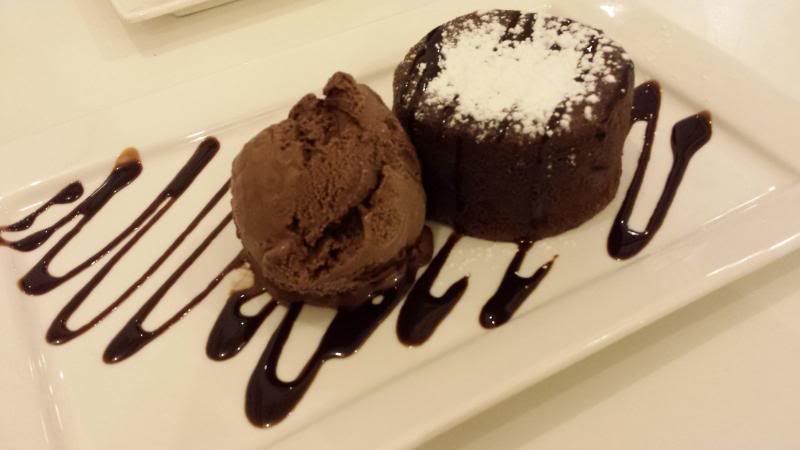 chocolate lava molten cake...
pretty soso too.
If you have realised... it's SIMPSONs us....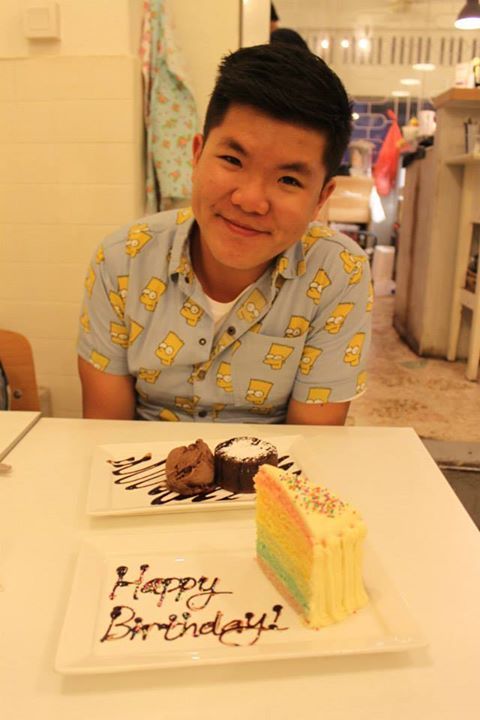 old school feel...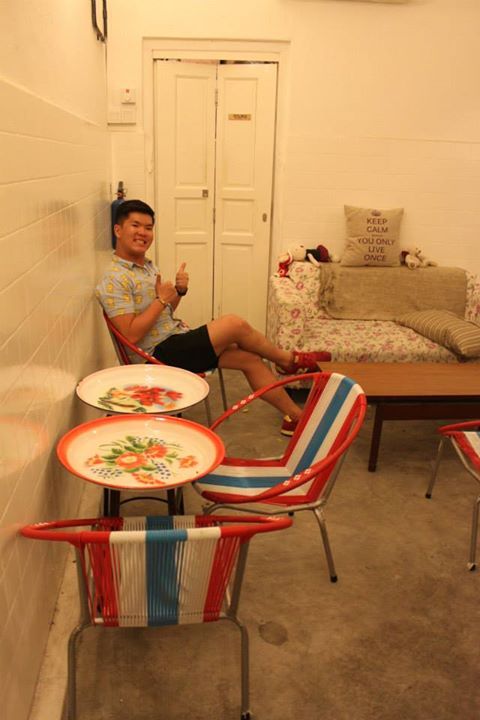 Overall, i'll give this cafe a 2.5star, mostly for its quiet and cosy feel.
Not alot of variety on food.
--------------------------------------------------------------------------------------
2. Stateland Cafe
Address: 30 Bali Lane, Spore 189866
Phone: +65 92964997
Opening hours:
Mon to Thu 12noon to 10pm
Fri to Sat 12noon to 12midnight
Sun 11am to 6pm
Closed on Tues
It's my lil bro again who brought me to another cafe....
This time round, its situated at bugis. There were quite a number of cafes around bugis.
We decided to head for the Stateland Cafe and before we went there, we goggled that the red velvet waffle is a must eat. Quite accessible, walkable distance from bugis station.
They actually have 2 shops side by side. It was quite crowded with people, probably cos it was a weekend evening.
We ordered a pasta, egg benedict and the famous red velvet waffle. Actually told them to serve the dessert later, but they forgot about it, so we have to have it altogether. :(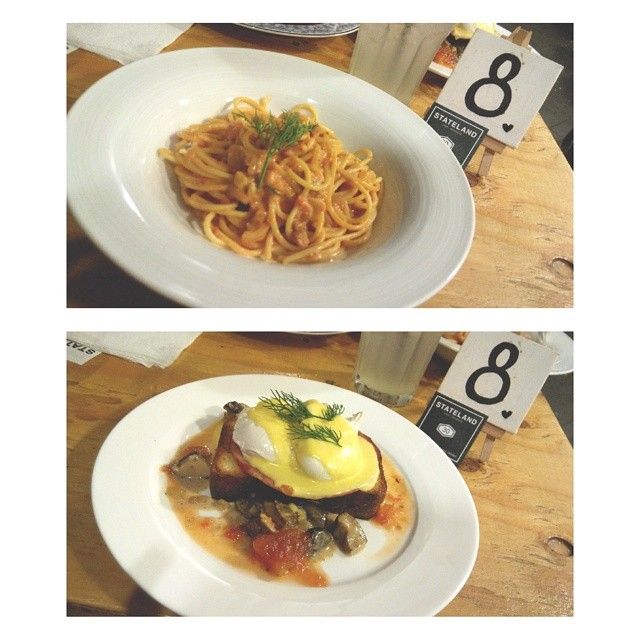 The food were quite so so, not very fantastic.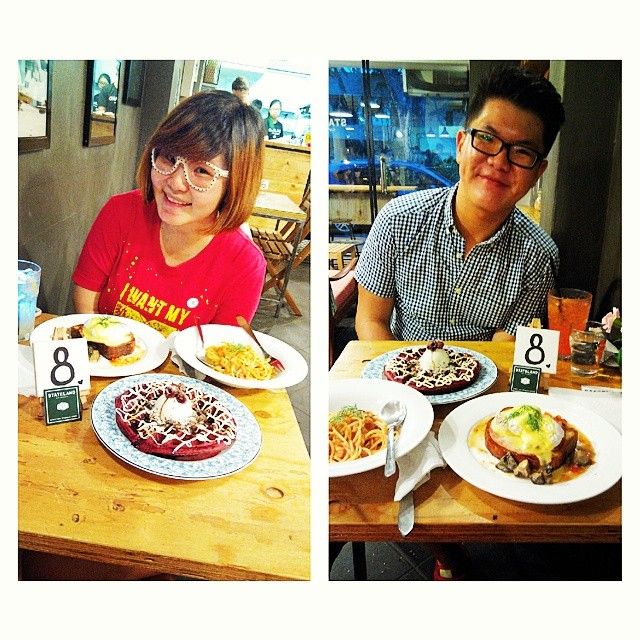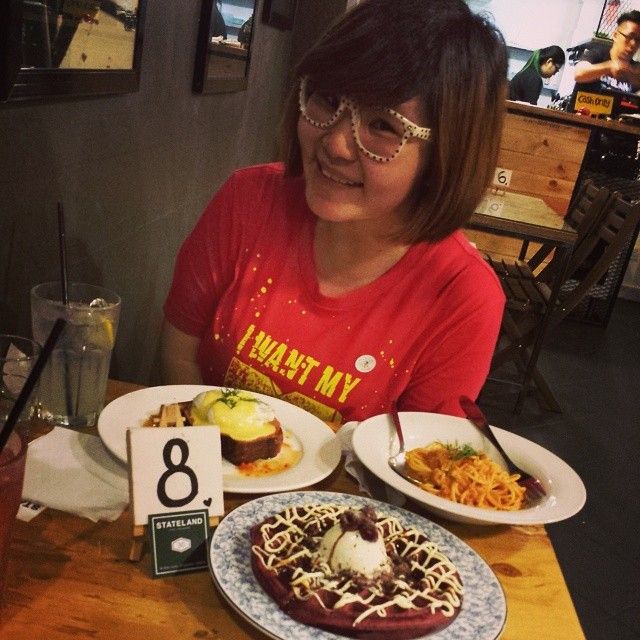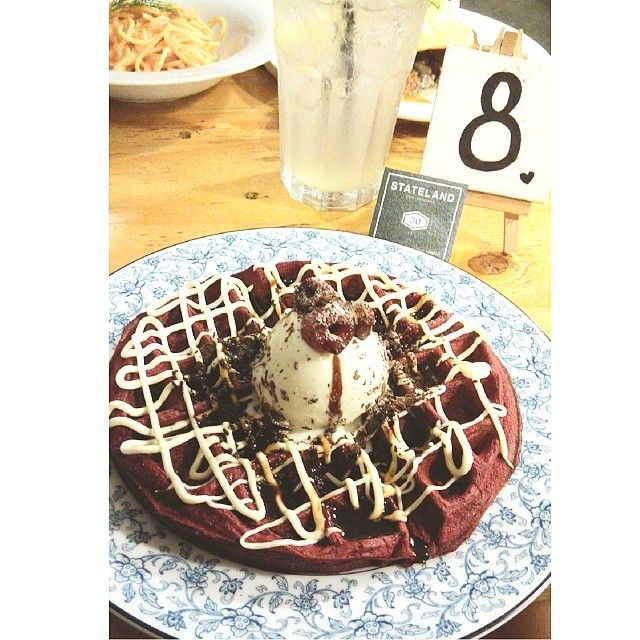 The famous red velvet waffle....
Looks rather pretty, but sad to say it just taste so normal.
I really don't know what's the rave over it.
Overall, i'll give this cafe a 3star. It's a place you could nua with your friends. You can have a main course meal or just a dessert and chit chat with friends.
-------------------------------------------------------------------------------------------------
3. Wimbly Lu Chocolates
Address: 15 Jalan Riang, Spore 358987
Phone: +65 62891489
Opening hours:
Tues to Thurs 12.30pm to 10.30pm
Sat 9am to 11pm
Sun 9am to 10.30pm
Closed on Mon
It's my lil bro's recommendation again. But this time round, i came with my lil bro, elder bro and sis-in law.
This cafe is situated at Serangoon. Also a super ululu cafe.... We came by car of cos.
It was a whole row of cafes, restaurant, mini pub. Siam society is nearby too.
When we reached wimbly lu, there was already a queue....
Since there's a queue... i'm expecting the food to be real good...
The lightings were kinda dim, quite cosy comfy feel.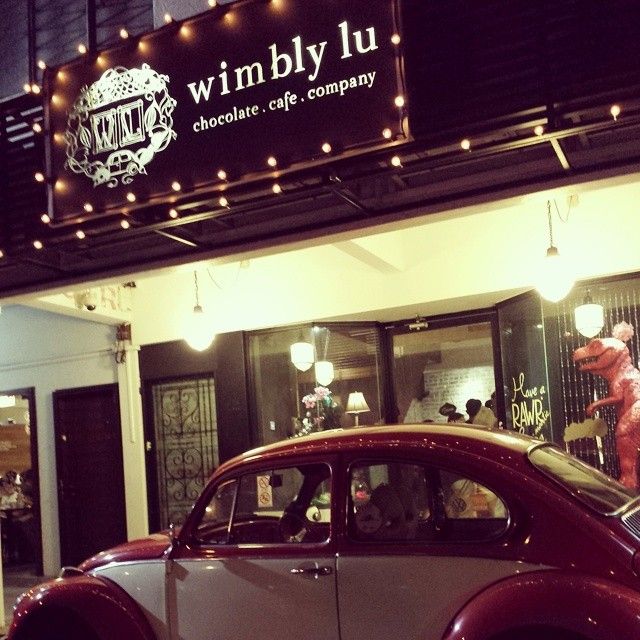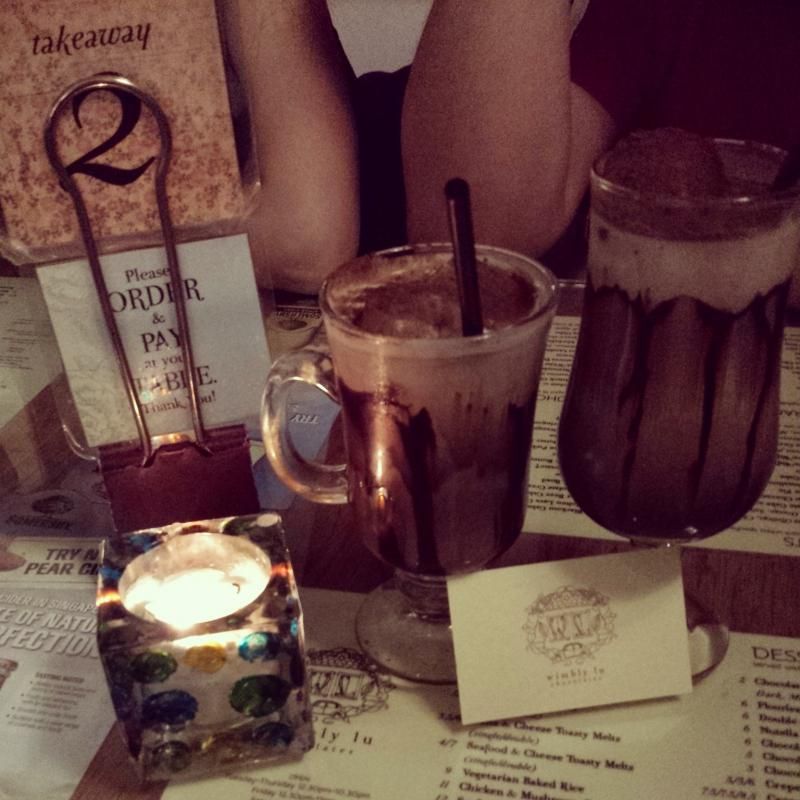 Ice chocolate and toffee
Packed and crowded.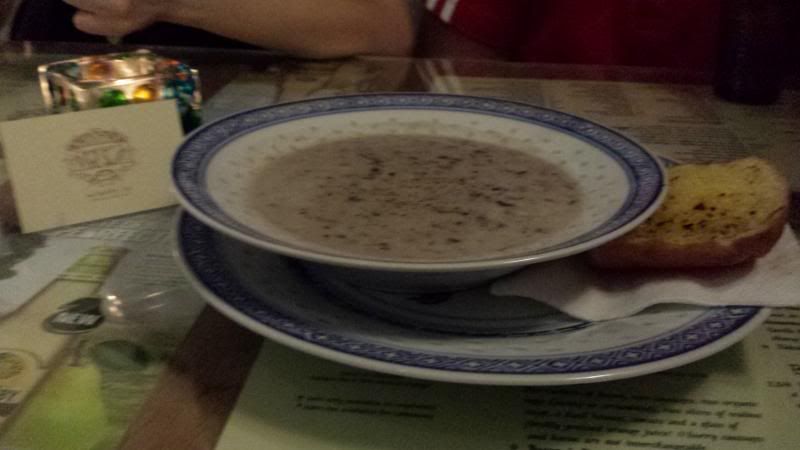 Mushroom soup. Tasted not bad, but i still prefer Soup spoon's... lol.
The plates used were pretty old school.... cute :)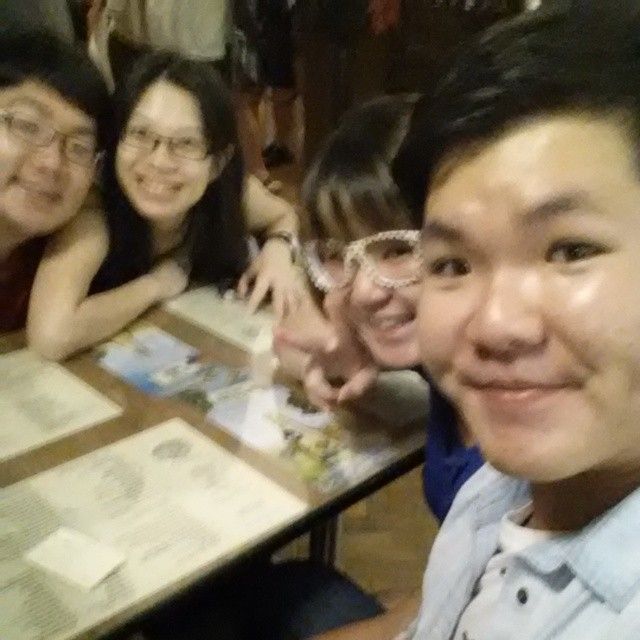 Hiya!
Chicky mushroom baked rice...
Tasted so so....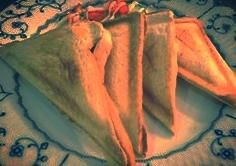 Tuna cheese melt. Kinda stunned when i saw this... Cos i could do it at home myself too la...
Carrot cake was dry.
Lemon meringue have a kinda weird taste, a bit like mama lemon....
Not sure is it meant to be like that or??
Lastly, the famous waffle!
Indeed i have to say their waffle tastes really not bad. Yummy with salted caramel ice cream...
Goes very well!
Overall, i'll give this cafe a 3.5 star. The waffle was nice. The atmosphere not bad. Quite a number of desserts to choose from.
-----------------------------------------------------------------------------------------------
4. Carpenter and Cook
Address: 19 Lorong Kilat, #01-06, S'pore 598120
Phone: +65 64633648
Opening hours:
Tues-Sat 10am to 10pm
Sun 10am to 7pm
Closed on Mon
This cafe is situated at Bukit timah...
Went with close buddies at work.... Saw alot of ppl posted pastries of this cafe, so we decided to give it a try.
It's quite a small cafe with a big table in the middle. So, you might need to share the table with others.
But lucky we got a table at the corner. The cafe got the vintage feel, quite cosy too. Can come here and nua with friends, la kopi.
However, the pastries were rather small but priced range at around $4 to $7.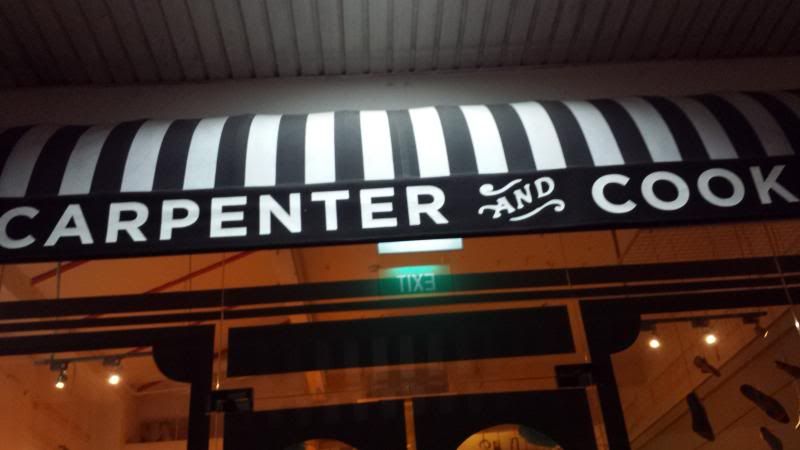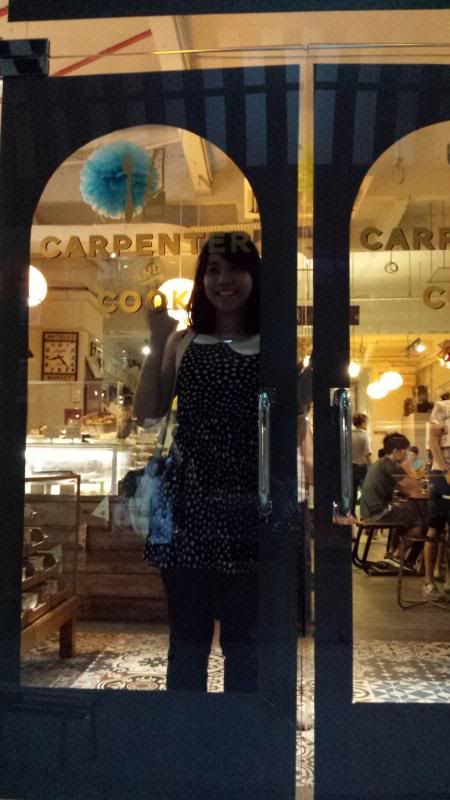 crazy girl....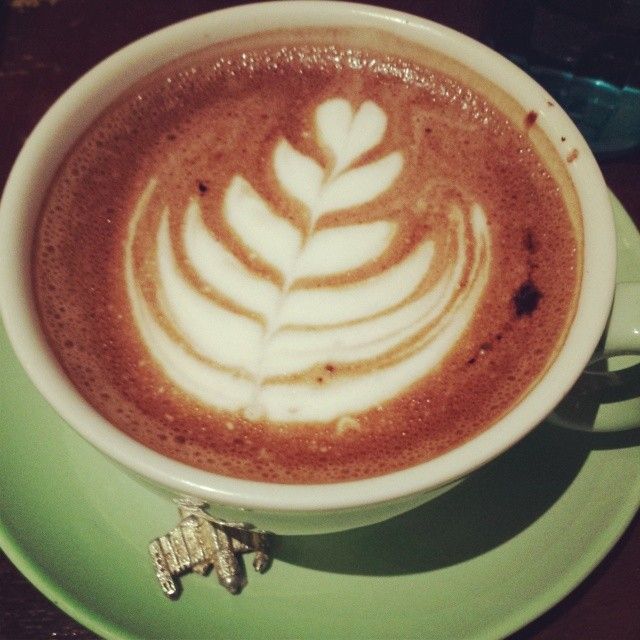 Cant have coffee.... so just have some hot chocolate...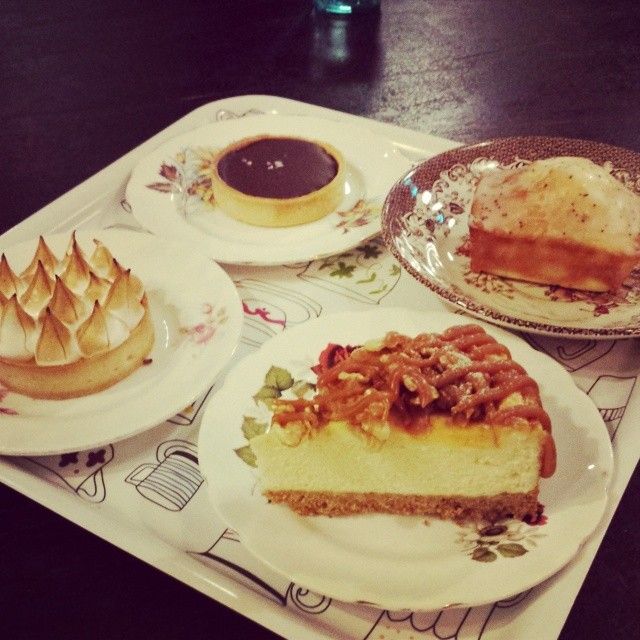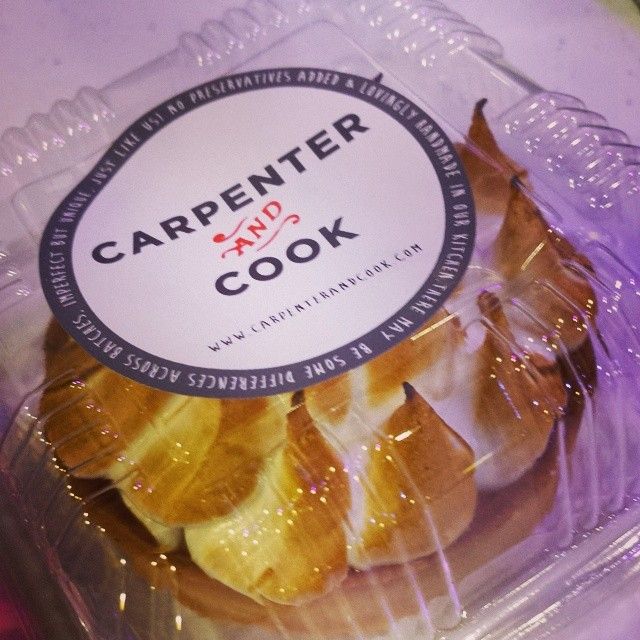 Ordered the famous passionfruit meringue tart, sea salt caramel chocolate tart, caramel walnut cheesecake and lemon meringue cake.
I'm not a passionfruit lover, so i find it so so for me. But my friends likes it. I tapao-ed back for my hubby and he commented its too sweet.
The lemon meringue cake was pretty small, but taste not bad.
I like the cheesecake too. As for the chocolate tart, i find it so so too.
a place to NUA with your friends.
Overall, i'll give this cafe a 3.5 star. Nice ambience. A wide range of pastries. There are sweet and savory pastries.
--------------------------------------------------------------------------------------------
5. Five and dime
Address: 297 River Valley Rd, S'pore 238338
Phone: +65 92365002
Mon to Thur 12noon to 10pm
Fri 12noon to 12midnight
Sat 10am to 12midnight
Sun 10am to 10pm
Was with my close colleagues again... it was after dinner at clark quay and we decided to go for some dessert. And someone suggested Five and Dime...
It was quite a WALK!!!
So, we went there for dessert. Some were quite unique, but not say very fantastic though. I just googled and saw all the good ratings for its main dishes instead. Maybe we should go back there for their main dish one day.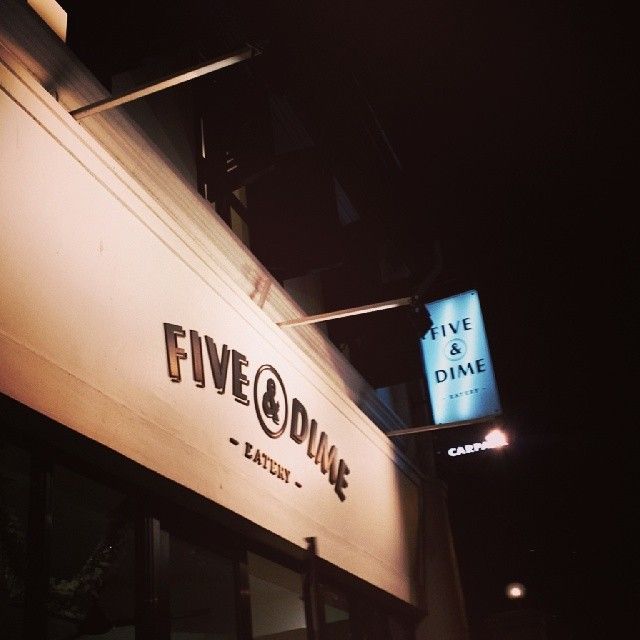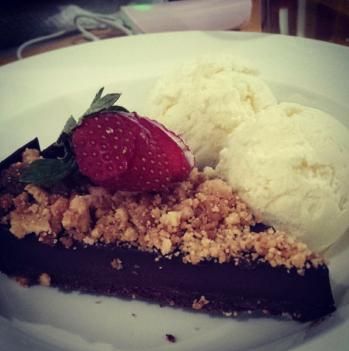 Earl grey chocolate tart
Not too sweet, tasted just nice.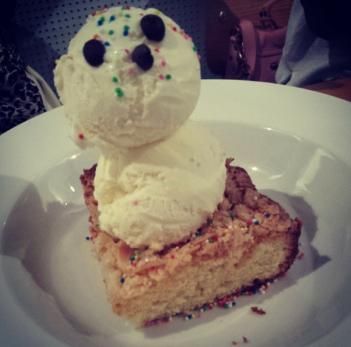 Raspberry almond cake
Nothing special about this... and cos we said we wanted something cute, so they made a snowman..
wahhahaa...
Spiced strawberry cake...
This was kinda special, texture like meringue... abit weird... abit of spice...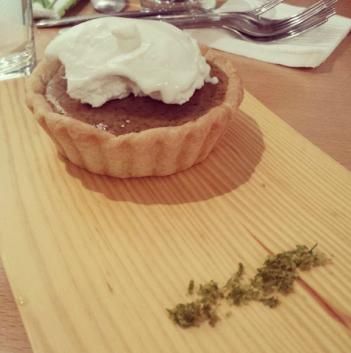 Thai tea tart
Really taste like thai tea, the tart is small, so you wont feel so jelak because by the time you realised.... the tart is gone.
Overall, i'll give this cafe a 3 star. Their dessert were kinda special. Maybe a next visit for their main course to rate again... wahhahahaa
That's all for now.....
More food food food and more food in the next blog entries....