It was on the 5th of january, when suddenly my PRECIOUS gang wanna have a GIRLS night out at TIMBRE, and required to have sweet lady-like dress code.
And so, we were supposed to meet up at around 5-6pm after my school, and then they started giving last min issues, like will be late, blah blah.... which dampened my mood, moreover the heels i was wearing was causing blisters and my super heavy bag... eukkkk....
I told them i felt like going home instead already, and they seemed panic... trying hard to pacify me...
And so... we have met.... and did some shopping as usual~
i think we spent about an hr plus in Lasenza?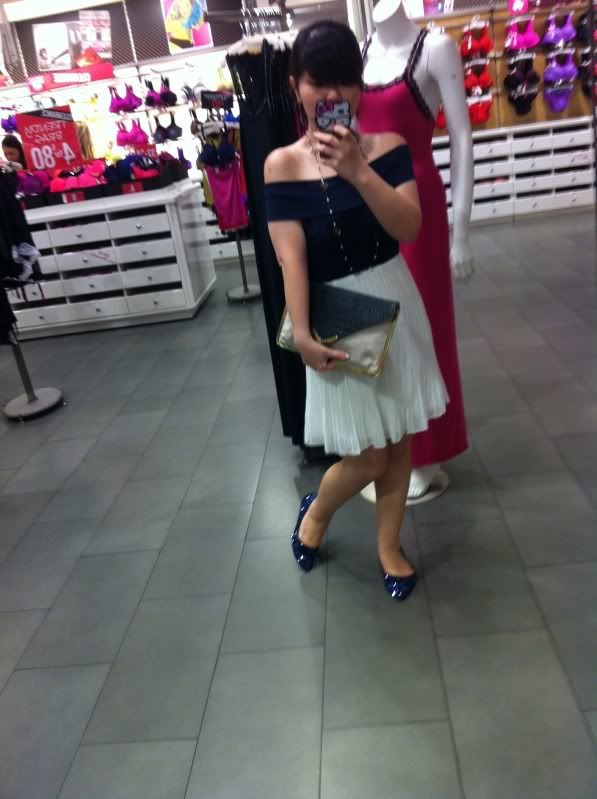 Trying out on how to pose to make your legs look longer

Wendy promoting the panties (10 for $50)
After all the shopping, we finally head to Timbre...
We were starving as though we have not ate for like 3 days!
So, we are about to finish our food, and these gals seemed kinda weird... Kept waiting for the live band to be up... and Rayne not only brought a digital camera today, but also her polaroid camera...
Waiting and waiting... wendy seemed kinda tired... and started mumbling something....
Not long after...
The live band group finished singing the first half of the session for that night.
Oh ya, the live band was "The Beatroots".
And after about half an hour, they came back and said there's a special request tonight......
ok.... i sensed something........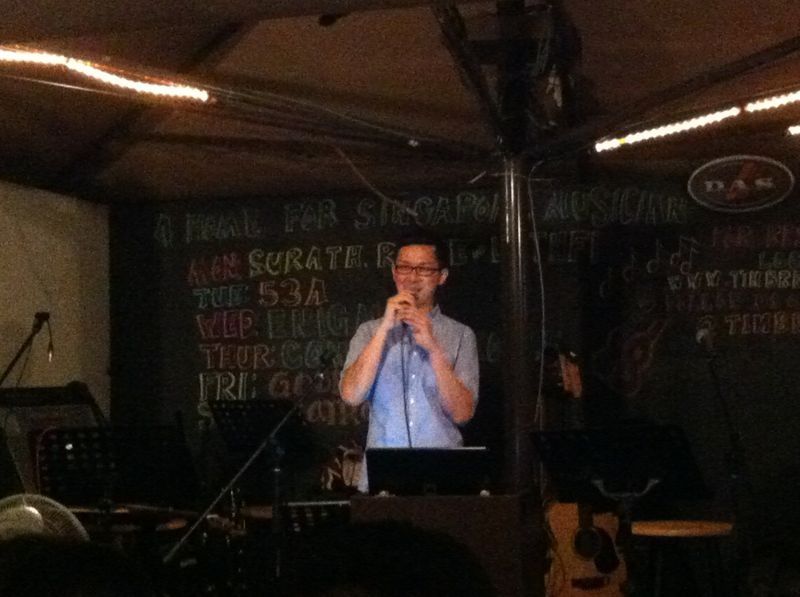 Samuel (My Mr Lim) went up on stage and sang a song
Michael Buble - The way you look tonight


I was kinda surprised but also expected a little already.... since its just kinda felt weird that night...
While he was singing, a bunch of my friends... came 1 by 1 passing me a stalk of rose...
i was really surprised by this... Never expected them to come... and also my little bro, Raymond, who had helped out a lot for this proposal too. Of cos, all my precious SISTERS have helped out to make this a successful one too.
So, after he finished the song... well, ... i was being asked to go on stage, and really really very surprised that... Samuel actually got me a big bouquet of roses which he never did....

And he proposed, and i have accepted!
We are engaged!
Check out the video clip below :)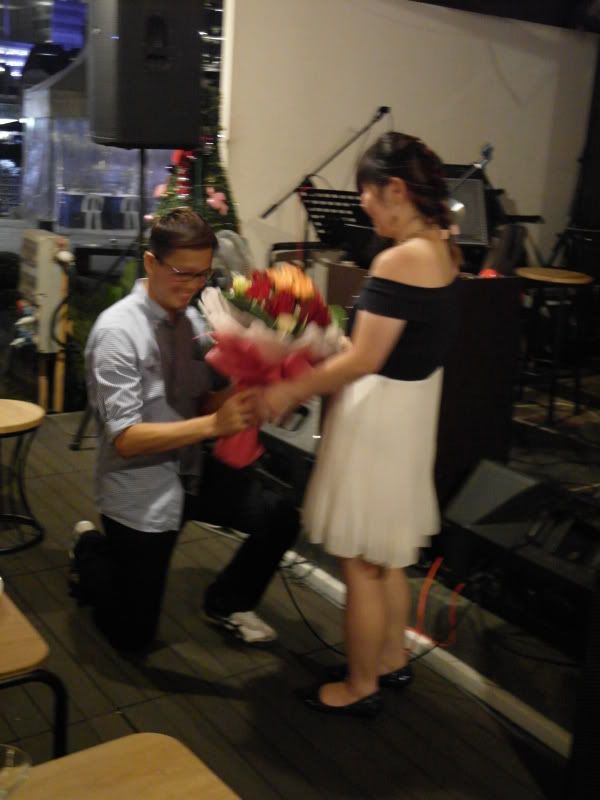 9 flowers from my friends
(for eternal love)
24 flowers means Can't stop thinking of you 24 hrs a day
and 33 add up together is
I love you forever!
Thanks for being there!
My precious sisters!
Thanks everybody for being there!
It's our treat! EAT more !!!!
Balloon from our Precious Sisters!
Thanks Lijia for the effort!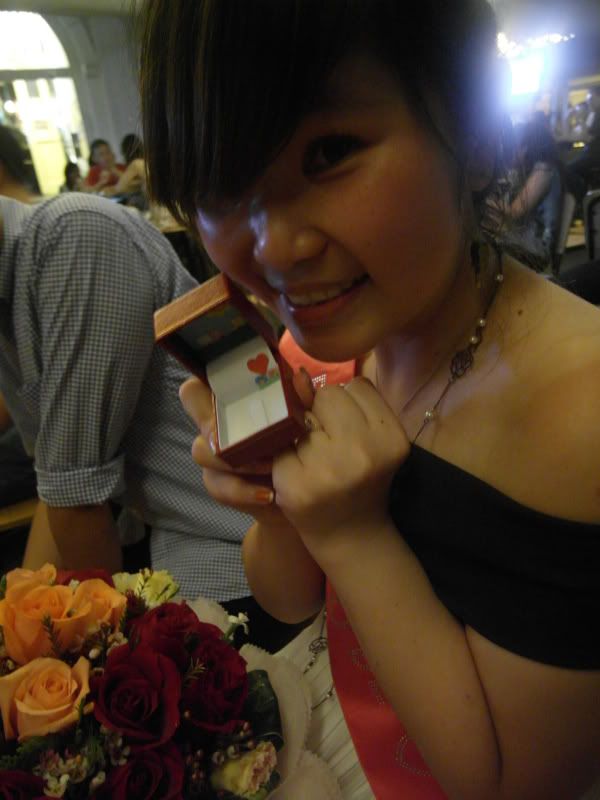 D.I.Y ring box by Hubby!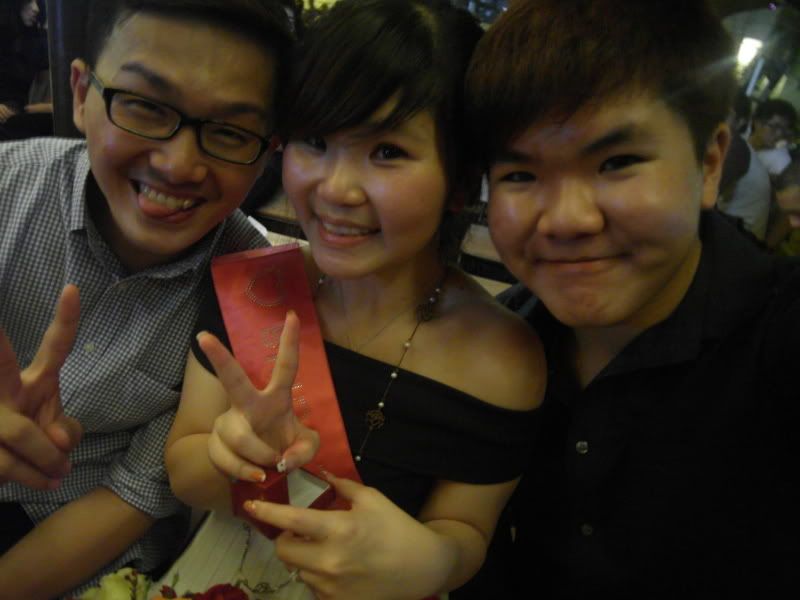 Thanks, bro!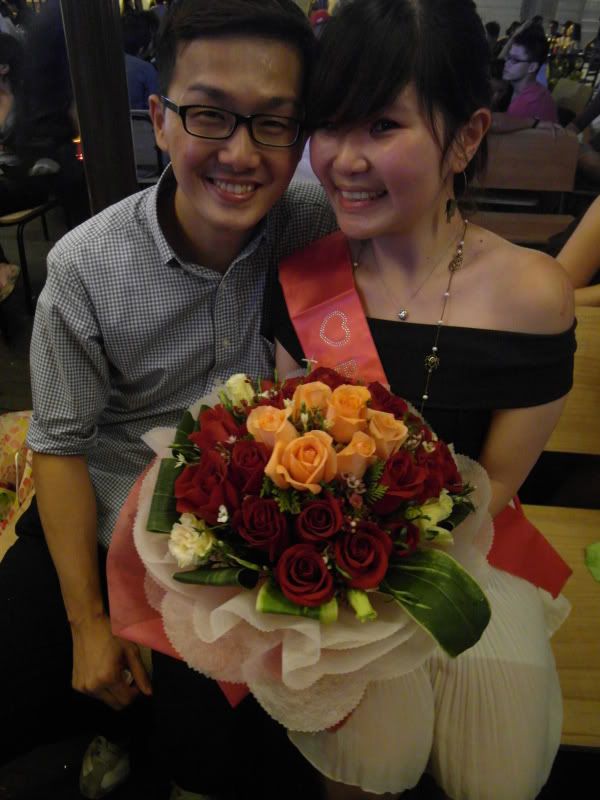 We are Engaged!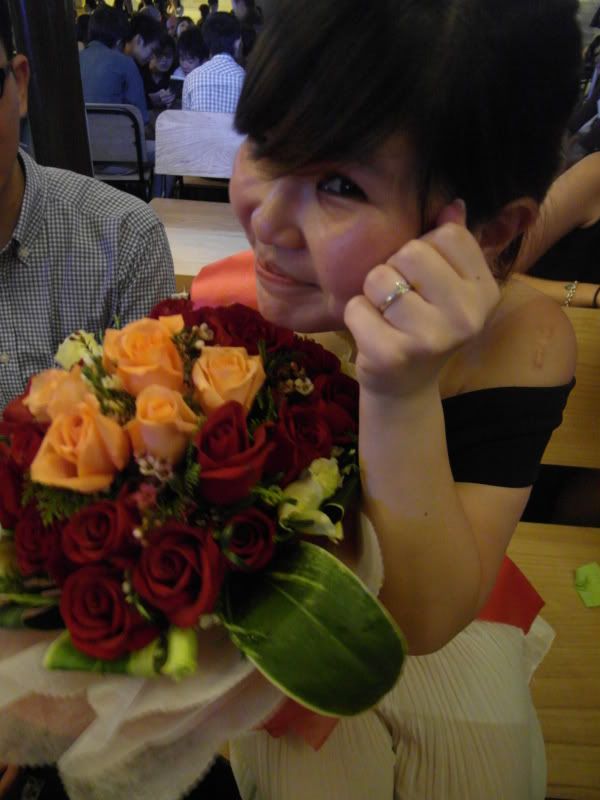 I'm taken!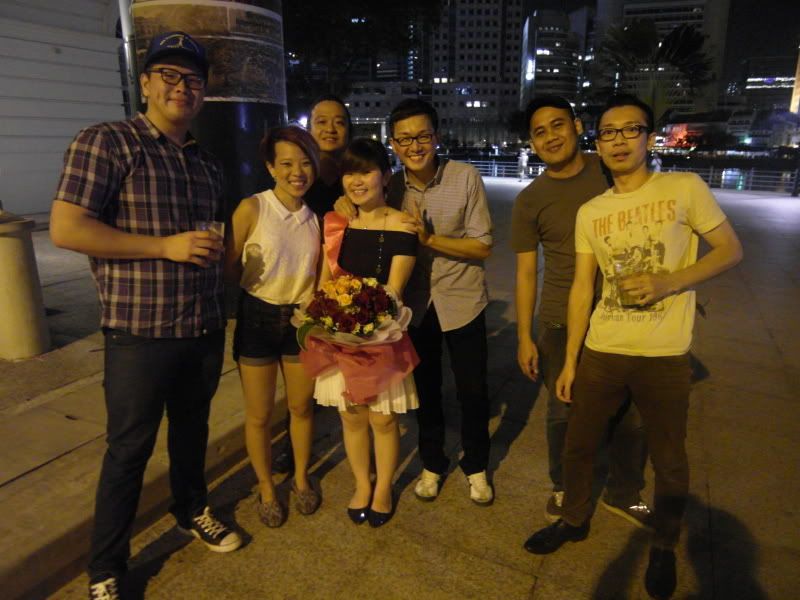 The live band "The Beatroots"
Thanks for their help too!
Wendy left... cos she needs to work early the next day :(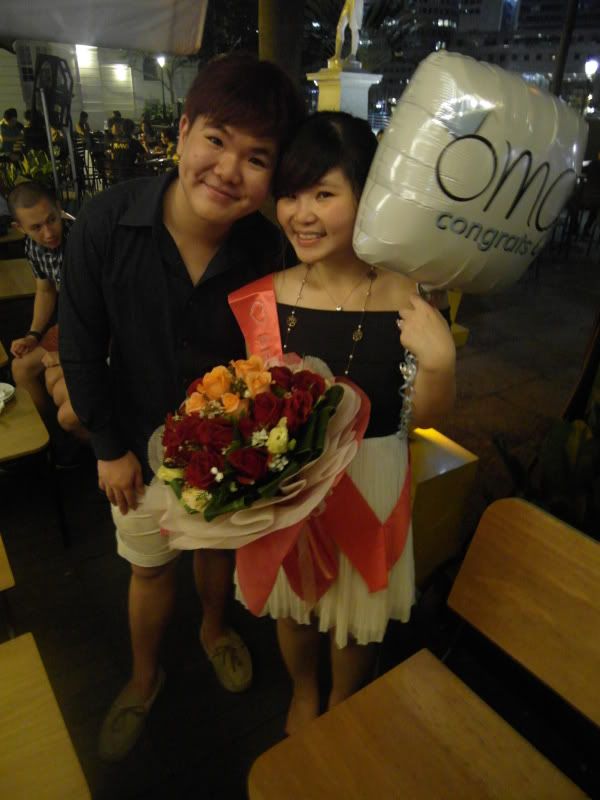 My dear bro, Raymond!
Thanks for travelling up and down for errands.
Shanna & I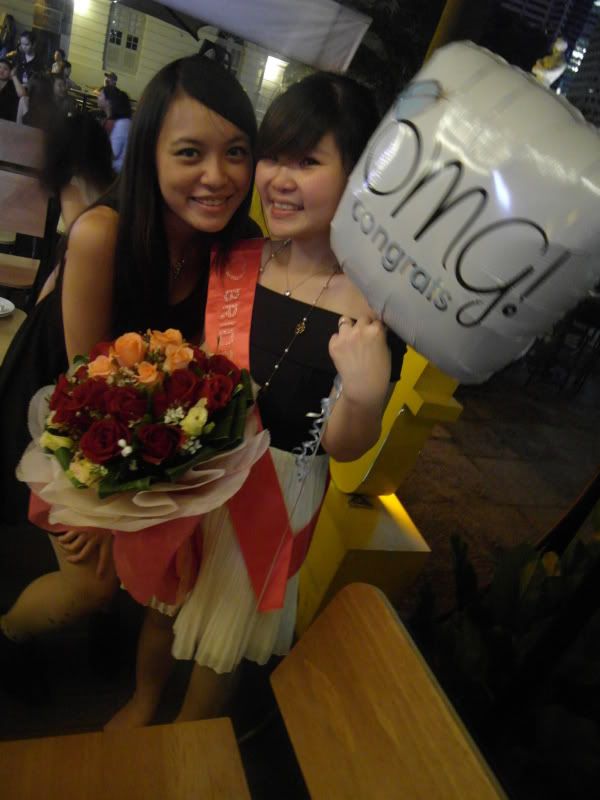 Rayne & I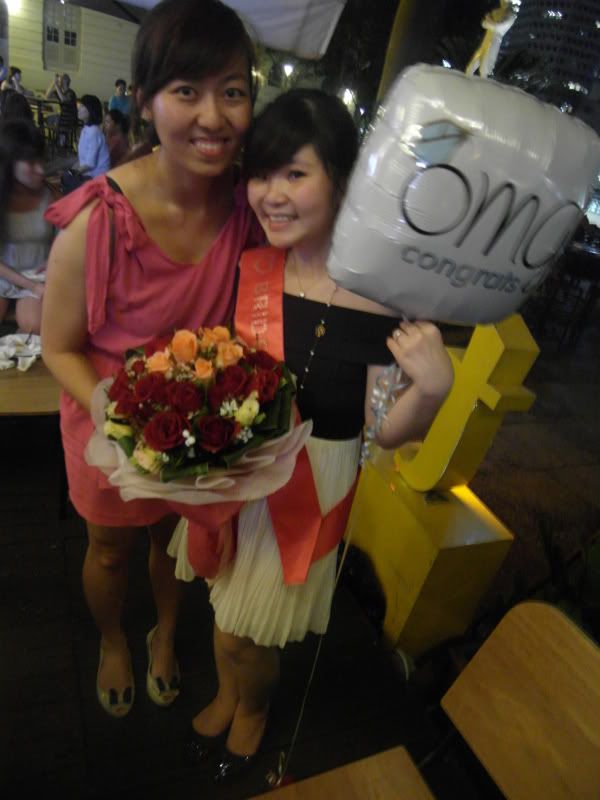 Elise & I
The manager of Timre @ Art house
Thanks for his help to organise too.
Thanks my sch buddy! Yiwen!
Thanks buddy (Calvin), the guy who introduced my hubby to me!
Sharlyn and Kenny! The funny couple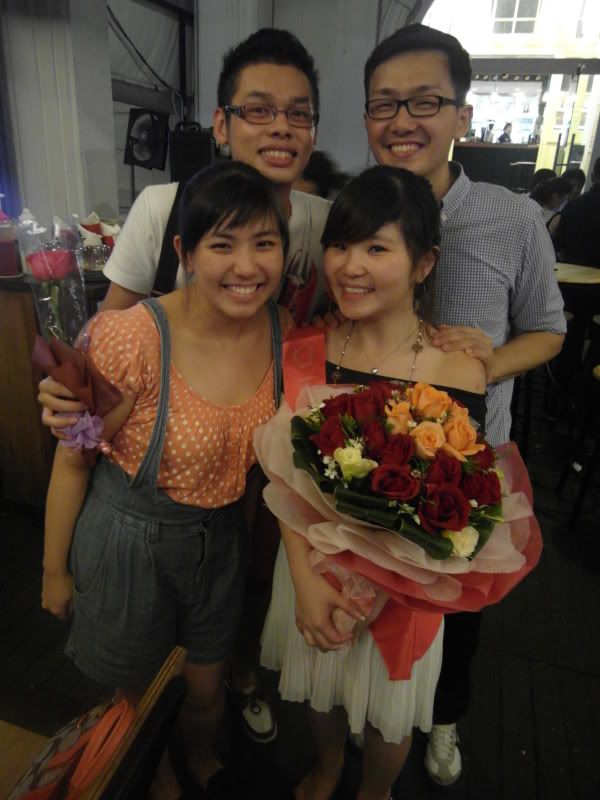 Bernard and Jeslyn! The next wedding couple!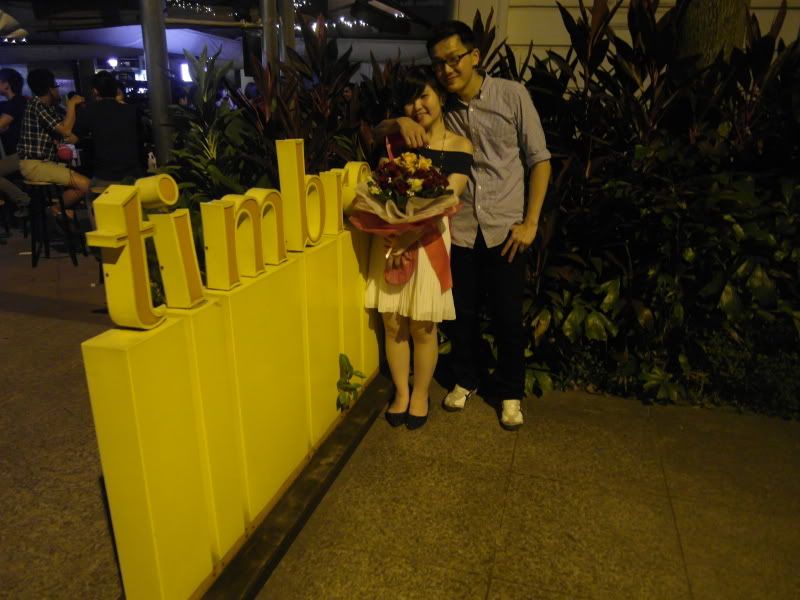 Thanks hubby, i love the surprise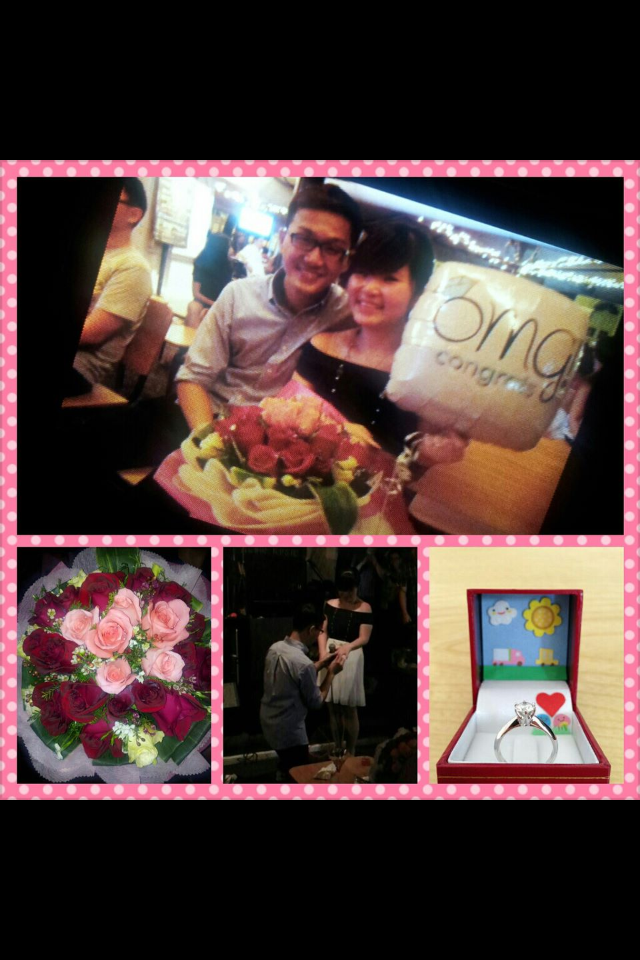 Thanks hubby and everyone who were there to help!
I love you guys and of cos my Hubby, Samuel Lim!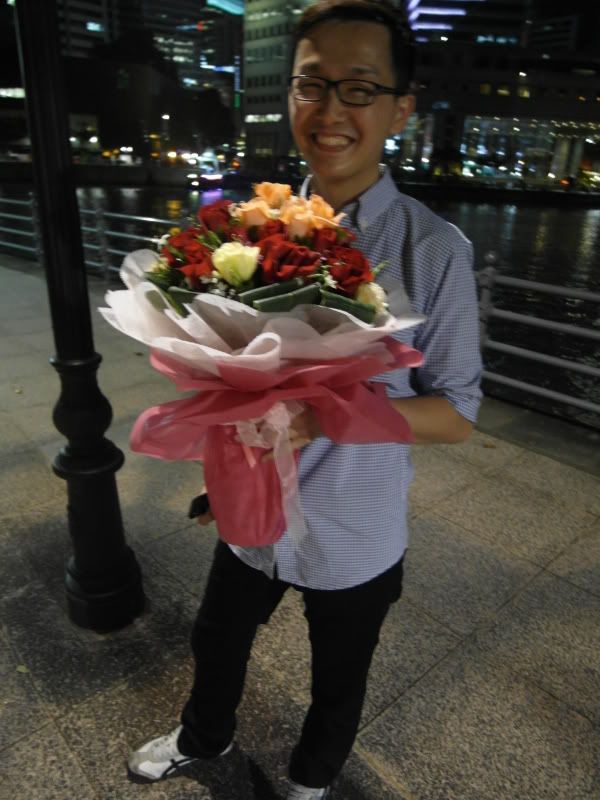 Love you, hubby
The proposal!
Stay tuned for the next blog entry on our ROM!